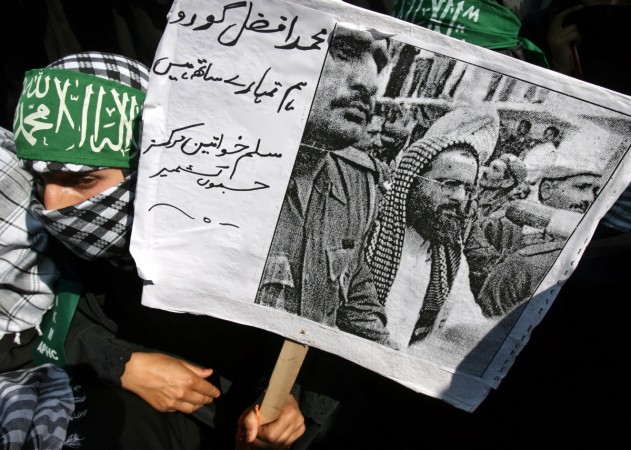 Kashmir was tense on Thursday after separatist organisations like the All Parties Hurriyat Conference and the Hurriyet forum called for a shutdown in the state on the death anniversary of Parliament attack convict Muhammad Afzal Guru.
Also read: PM Modi, other politicians pay homage to martyrs of 2001 Parliament terror attack
Authorities suspended train services between Banihal and Baramulla in Kashmir due to fear of violence.
"In view of the shutdown call floated by separatist organizations which could lead to law and order situations in the valley tomorrow, 9th February 2017, the Baramulla-Banihal rail service may please be suspended," said an order, issued late Wednesday.
The joint resistance camp, comprising separatists, have called for the shutdown on Thursday and Friday to mourn Guru's death, who was executed in Tihar jail on February 9 2013.
The call for the shutdown was given by joint resistance leadership comprising Syed Ali Gilani, Mirwaiz Umar Farooq and Muhammad Yasin Malik.
There will be a march towards the United Nations office in Sonawar in Srinagar on Friday. They will be demanding that the mortal remains of Muhammad Maqbool Butt and Muhammad Afzal Guru, both buried in Tihar jail, be returned.
Security was amped up in the city of Srinagar, especially in old Srinagar. City markets were closed and public transport vehicles too were not plying.
While delivering the verdict against Guru, the supreme court had said "...the collective conscience of the society will only be satisfied if capital punishment is awarded to the offender."
Separatists have held the opinion that he was unjustly killed. They are also protesting against detention of "illegal political detentions." The group condemned the arrest of several youth, ransacking of houses, and harassment of residents at Bogam in Kulgam district.
On Wednesday, members of High Court Bar Association had staged a protest demonstration outside the high court premises. They demanded that the Kashmir dispute be settled according to the UN Security Council resolutions. A protest was also staged in Lassipora area of Pulwama against the Indian Army.