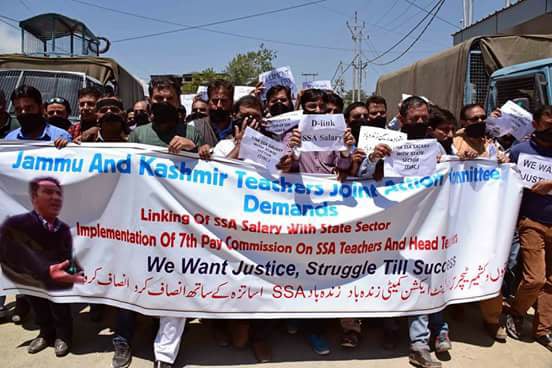 Mumtaza, 29 a resident of Budgam district in Jammu and Kashmir is not upbeat about Eid-al Adha this year. In fact, the last Eid also brought no cheer to her and family. Mumtaza, a government school teacher working in a primary school located in a remote village in Budgam, a few kilometres away from her house has not received her salary for the last three months.
A single mother, who lost her husband last year, she is the only bread earner for her family which comprise her two children.
This Eid also, Mumtaza says she would not be able to buy new clothes, good food for her children despite her working in a school.
"Last Eid, I left my children with my parents and instead joined the teachers agitation in Srinagar, demanding our salaries, which we have been denied for months together. Nobody is paying attention to our demands. Most of the teachers who work with me in the remote villages belong to poor families and we are the lone sources of income for our families," Mumtaza said.
Hundreds of teachers like Mumtaza who have been employed under a centrally sponsored scheme, Sarva Shiksha Abhiyaan (SSA) in J&K are fighting a lonely battle over last few years, demanding payment of their salaries on a regular basis and availing benefits under seventh pay commission.
The teachers today refused to join work as a result of which the classwork in government and primary middle schools remained affected.
However, the successive state governments have reasoned that the salaries of the school teachers are funded by the Ministry of Human Resources and Development and that the induction and regularisation of the school teachers under the state rules is an uphill task.
This has led to a growing resentment among the school teachers in the valley who have protested outside the State Assembly, Raj Bhavan and also gone on hunger strikes.
On Monday, the teachers again staged statewide protests demanding the payment of their salaries and also availing benefits under the seventh pay commission.
The state government although agreed to pay a two months salary to the teachers, but the measure is described as inadequate by the protesting teachers.
"They pay heed to our demands only during the time of festivals and various issues we have still remain unresolved. We are serving in some of the remotest corners of the state, across schools where enrollment of poor children is very high. If we are not paid regularly, the education sector in the state will suffer. But the government seems to be inconsiderate," Muhammad Fayaz, a protesting school teacher said.