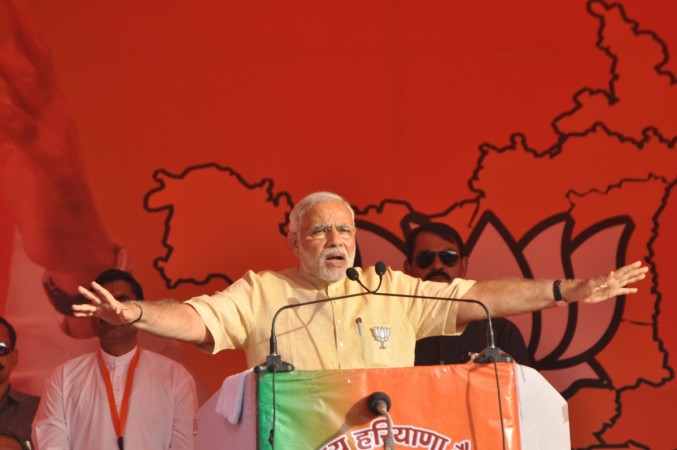 The BJP bandwagon came to poll-bound Jammu and Kashmir with Prime Minister Narendra Modi at the front, as he began his campaigning in Kishtwar on Saturday.
At his first election rally in the state, Modi touched upon a range of issues, including the recent devastating floods, and how he wanted to revive the state as a popular destination for Bollywood movies.
"I am very attached to Jammu and Kashmir. After the floods, I was here to wipe your tears," Modi reportedly said on Saturday, in his third visit to the state since taking charge at the Centre.
The Prime Minister is expected to address as many as seven rallies across the state as the Valley readies for a five-phase assembly poll starting from 25 November.
The BJP is looking at making inroads into J&K with its Mission 44+ plan, as the Congress and the National Conference will contest alone after their split.
After landing at Jammu airport, Modi reached Kishtwar town in a helicopter, to address an election rally attended by 30,000 people, IANS reported.
The Indian Prime Minister attacked the regional National Conference and People's Democratic Party. "Can only two families rule Kashmir? These families have an understanding. One will rule for five years then the other takes over. There is five-year contract for looting Kashmir between the two families," he said, targeting the Abdullah family-led National Conference and the Mehbooba Mufti-led PDP.
"Like Haryana, Jammu and Kashmir should also end years of misrule by two families," Modi said.
After his breakthrough success in the states of Maharashtra and Haryana in the last two months, Modi is looking to extend his winning run to Kashmir, amidst much controversy over the abrogation of Article 370.
The party came under scathing criticism from opposition parties and the media and decided to play down the issue by calling for a debate on it.
Modi also promised to develop Kashmir into the "ultimate tourist destination in the world" and said he would "bring Bollywood to Kashmir".
"I have to bring Bollywood back to Kashmir. I have to bring tourism back to the state and I have to make J&K the ultimate tourist destination in the world," he said.