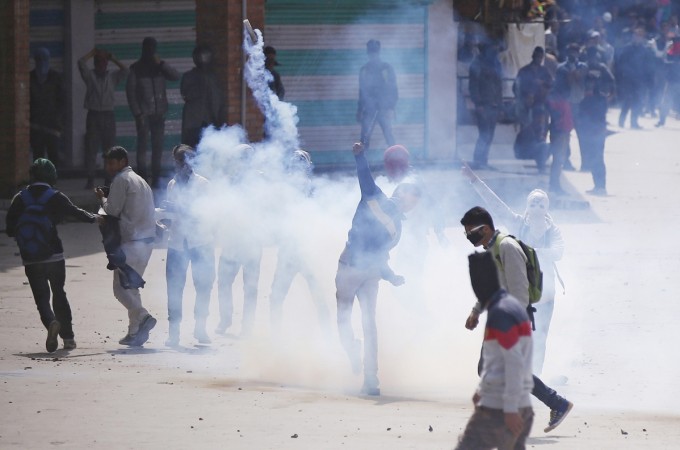 The Kashmir Valley is simmering under curfew for the third consecutive day, after 30 people, including Jammu and Kashmir police personnel, have been killed during clashes between the security forces and protestors. Over 250 people have been injured, and are admitted to various hospitals of the state.
Union Home Minister Rajnath Singh spoke to Congress President Sonia Gandhi and former Chief Minister of the state, Omar Abdullah, over the issue on Monday. Singh had on Sunday spoken to J&K Chief Minister Mehbooba Mufti, and assured all the central assistance to take care of the issue.
Sonia Gandhi also issued a statement expressing her concern. "Even so, the death of so many of our citizens and attack on security forces is very painful. The political process has made many gains in J&K over the last two decades particularly and these must not get lost," she said, according to the Indian Express. "I appeal to my brothers and sisters in the Valley to allow political parties to find durable and enduring ways of fulfilling their aspirations meaningfully in a peaceful and democratic manner."
All the 10 districts of the Valley have been put under curfew by the state government after violence escalated in the last 24 hours. The clashes broke out after a top Hizbul Mujahideen commander, Burhan Wani, also called the 'poster boy of militancy' in Kashmir, was killed by the security forces on Friday.
The Valley has been on edge since Burhan's killing, with angry protestors defying restrictions and fighting pitched battles with the security forces on Saturday and Sunday. Thousands of people attended Burhan's funeral in Tral town on Saturday.
The violence spread from South Kashmir to the summer capital, Srinagar, after a youth from Tengpora in the Batamaloo locality of the city was killed on Sunday.
Over 5,000 pilgrims, who were scheduled to visit the holy Amarnath shrine at Pahalgam in South Kashmir, were stranded in Jammu as the pilgrimage was temporarily suspended.The Yatra has been now resumed, the Indian Express reported.
J&K's Education Minister and spokesperson of the state government, Naeem Akhter, addressed a press conference on Sunday. He appealed to the separatists and the mainstream political parties to rise above differences and help restore peace in the Valley.
Hardline separatist leader and Chairman, All Parties Hurriyat Conference (APHC), Syed Ali Shah Geelani, urged the angry protestors to refrain from attacking police stations and damaging public property.
Four police stations have been set on fire so far and 40 government offices attacked, the NDTV reported.
Meanwhile, Omar Abdullah, questioned Mufti's silence on the situation in Kashmir.
"Dear MehboobaMufti We in @JKNC_ are always ready to contribute towards maintaining peace but you must take the lead & show the way," Abdullah said in a tweet.