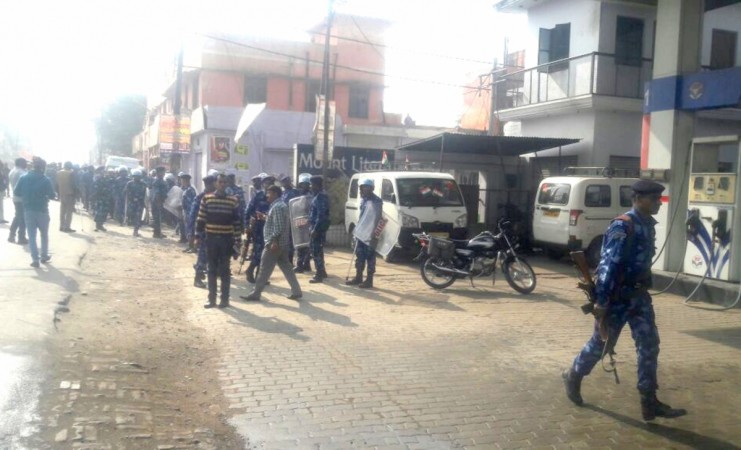 The violence that erupted in Kasganj, western Uttar Pradesh on January 26, has left the entire nation appalled, triggering fears that the communal rift might worsen. To add to the woes, a new video has now emerged which reportedly shows the last moments of Chandan Gupta, a 22-year-old man who was killed while participating in the "Tiranga Yatra" during a Republic Day bike rally in Kasganj.
The video that surfaced on social media shows the visuals right before the communal clash escalated, as a group of men are seen on a road with guns, clubs, and sticks. The eyewitness who shot the video from a rooftop of a tehsil office seemed quite scared as the camera could not be kept still due to the mob wreaking havoc.
In the video, several gunshots can be heard and the police have said that they are looking into the video to establish the sequence of events and to find the men responsible for the clash. NDTV reports that Chandan is seen driving a bike with two others on it. Several other bikers are also seen in the video as shouting slogans and holding national flags along with saffron ones.
The incident came to light on Friday, January 26, when a group of bikers passed by an area dominated by a minority community and were reportedly attacked with stones. In the clash that ensued, Chandan Gupta was severely injured and lost his life. The death of the young man added fuel to the fire and the violence took an ugly turn. Subsequently, the activists who participated in the rally went on a rampage, setting shops on fire and attacking houses in the locality.
News reports say that the violence broke out after the activists of Vishwa Hindu Parishad and Akhil Bharatiya Vidyarthi Parishad, the RSS-affiliated students' organisation, shouted "Vande Mataram" and "Bharat Mata ki Jai" when the rally reached the area. As per reports on India Today, an unidentified person shouted "Pakistan Zindabad" triggering the communal clash.
It is reported that more than a 100 people have been arrested in connection with the Kasganj violence. Uttar Pradesh Chief Minister Yogi Adityanath has warned that violence will not be tolerated and that those involved in the communal clashes will be punished.
Here are the videos: