The first poster of Tamil film "Madras" starring Karthi has gone viral since its release on 16 June. The film is directed by "Atta Kathi" fame Pa Ranjith. Breaking the usual marketing norms of Tamil films, "Madras" poster is released only after the film's shooting has been wrapped up.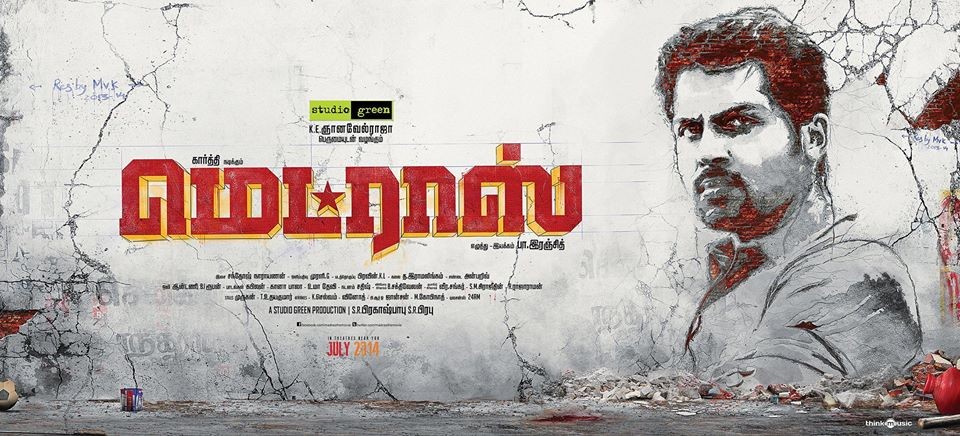 After his successful run in box office with Venkat Prabhu's comic thriller "Biriyani", Karthi is back with "Madras". The film was initially named "Kaali" and later changed to "Madras".
"Madras is one of my favorite names. I still tend to use it more than Chennai. Now after working on this film even the movie 'madras' has become one of my favorites. Had a whole new experience working with so many talented actors. Shooting in live locations and being part of the local community helped in unlearning a lot of things and learning new aspects of my job. Am sure this movie will be an interesting watch for all of you", said Karthi about the film poster release.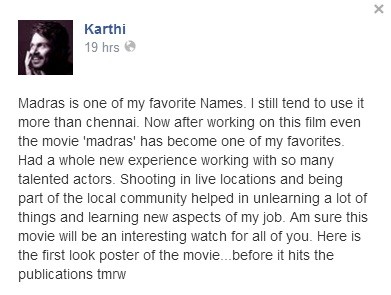 Like "Atta Kathi", Ranjith's "Madras" is also set in the North Madras and showcases the culture of people in the area. But this time with "Madras", Karthi is presented as someone who is well educated. The plot of the film revolves around how Karthi solves a problem that a group of people are facing and how he saves them from the trouble.
The film also has Catherine Treasa in lead role. With "Madras", Treasa is making her debut in the Tamil film industry. The actress made her acting debut in 2010 opposite Duniya Vijay in Kannada film "Shankar IPS".She later went on to act in Malayalam and Telugu films. She won Filmfare Award for best supporting actress for Kannada film "Godfather" and was noticed for her character in Telugu film "Iddarammayilatho". Her last film was "Rudramadevi", which is India's first 3D historic film.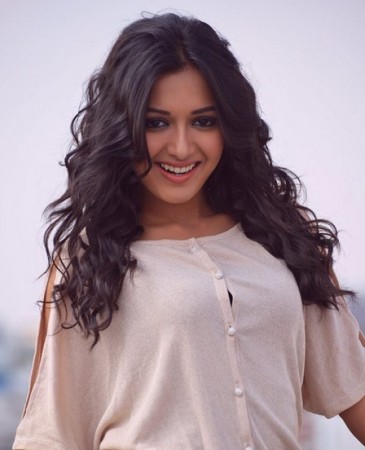 The first poster of "Madras" has raised expectation for the film. The music of the film will be launched on 23 June. The film is produced by Studio Green and will hit theatres by July.