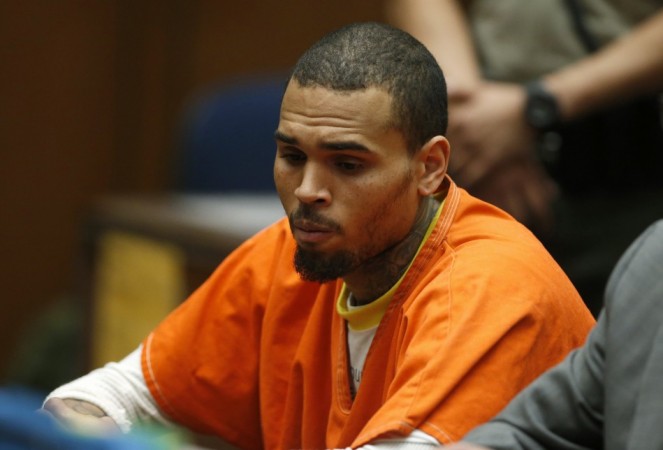 Chris Brown is now a free man, though only temporarily. The singer has been released from jail, ahead of the assault trial, and his girlfriend Karrueche Tran now has some plans lined up for the R&B singer.
"To let Karrueche tell it, she's going to lock his a** up, bathe him for hours and forget about the outside world. He just wants to have his freedom," HollywoodLife quoted a source speaking on Tran's plans.
Brown was out from the California jail at midnight on 2 June, after serving 108 days of a 131-day sentence. The 25-year-old singer is now free till the trial for the assault charges takes place later this month.
After getting out of jail, Brown took to Twitter to express his excitement.
Thank you GOD

— Chris Brown (@chrisbrown) June 2, 2014
Back to the Music and the Fans — Chris Brown (@chrisbrown) June 2, 2014
Humbled and Blessed

— Chris Brown (@chrisbrown) June 2, 2014
"He doesn't want to be around anyone, just his family and Kae and he wants to be in his home doing nothing. He misses his couches, his bed, f***, his shower. You can tell by the look on his puppy dog face that he's sad and tired," a source added.
Moreover, Brown is now hoping the court will take a decision in his favor. But if the ruling goes against him, Brown could be locked up behind bars for a long time.
Reports had suggested that while Brown was in jail, he had a tumultuous time and had even given up on life.
"He sounded like he'd just given up on life. It's bad, real bad. All hope is gone. He can't take it and everybody that knows him can't believe he's still alive," Hollywoodlife quoted a source close to the artist.
"He feels like they're all playing a game with him and he feels like he's being crushed. This entire process is ludicrous. Chris is in pain and he's suffering mentally."
Fans of the singer are also hoping that the court ruling takes place in his favor.
Furthermore, it is also said that Brown could propose to Tran. Brown had reportedly told Tran that when he gets out from jail, he would give her a surprise of a lifetime. Does this mean Brown could commit to Tran?
Before dating Tran, Brown was in a relationship with Rihanna. The couple broke up in May 2013.