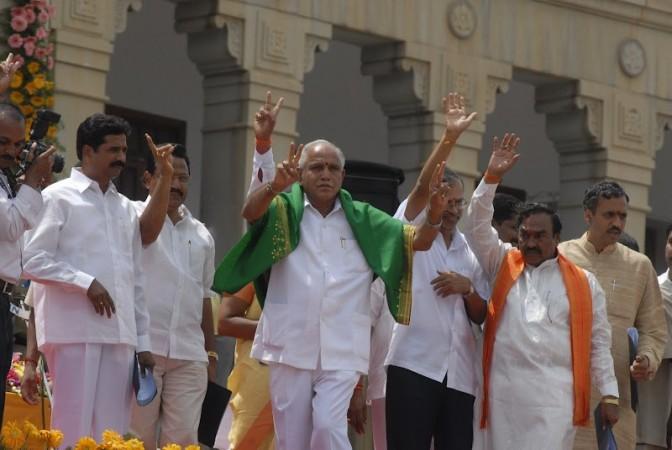 Former Karnataka chief minister and senior BJP leader B S Yeddyurappa on Saturday mounted his attack against the party central leadership over an ongoing internal spat.
Yeddyurappa accused BJP party general secretary Ananth Kumar of preventing the state leaders from growing to their full potential and alleged that Kumar was conspiring against everyone in the party by misleading important leaders.
While talking to reporters at his Malleswaram office in Bangalore, Yeddyurappa alleged that Kumar's work as the general secretary of the BJP was one of the reasons for the poll debacle in Uttar Pradesh. Moreover, he said that Kumar's conspiracies would also play spoilsports in Karnataka, Rajasthan and Gujarat.
Yeddyurappa said, "Several important leaders across various states are disappointed with party high commands due to various reasons. This is a serious issue. And there is a need to do introspection if the party want to."
He heaped praise on the Gujarat Chief Minister Narendra Modi and termed him as a dynamic leader.
"Whole world is appreciating Modi he is the one of the straight forward leader of the country and he has been a popular dynamic mass leader. He has gained wide acceptability all around, however, he lacks prominence within his own party," he said. "And Kumar is not happy with Modi."
Yeddyurappa, who is facing a slew of corruption charges, has been virtually not getting support from the party to ride out of the storm. Making the internal party rift wide open, Yeddyurappa on Friday moved to a new office, vacating his Race Course road office and residence allotted by the BJP government in Bangalore.
Yeddyurappa said that he would not attend the BJP executive meeting, which is scheduled to be held in Mumbai between May 24 and 26. Modi has also reportedly announced his decision not to attend the party summit.
"There is political indecisiveness in the state BJP. I have decided not to participate in BJP executive meeting. There is need for introspection," media reports quoted Yeddyurappa as saying.
Yeddyurappa has been accused in various scam cases, including denotification of land in and around Bangalore for his kin and favouring a few private companies in carrying out illegal mining business in Bellary.
On July 31, 2011, Yeddyurappa resigned after a Lokayukta report drafted by Justice Santosh Hedge on Bellary illegal mining pointed out his possible involvement that caused Rs 16,000 core loss to the state exchequer.
However, the BJP top leaders have virtually drifted themselves from Yeddyurappa after the Supreme Court ordered a CBI probe against him as recommended by the Central Empowered Committee (CEC).
The CEC was commissioned by the apex court to look into the allegations against Yeddyurappa and suggest whether to initiate a federal agency probe against him.