As the clock ticks towards the 5 May Assembly elections in Karnataka, contestants' 14-day-long campaign ended on Friday with party members making door-to-door canvassing to seek votes.
The polling will take place in 224 assembly constituencies across the state, with 223 of them going to polls on Sunday. The polling in the Periyapatna assembly segment in Mysore district has been rescheduled following the death of Bharatiya Janata Party (BJP) candidate Sannamoge Gowda. For this particular constituency, polling will take place on 28 May.
Politics has always been a bastion of males with very few women having made their presence felt, thanks to their hard work and their ability to deliver. While men have ruled the roost in politics, women have been underrepresented. Even as political parties demand 33 per cent reservations for women in different areas of governance (Women's Reservation Bill), they fail to maintain a small quota for women candidates.
Take for instance the Congress party which initially had one female candidate of all the 100-odd names in the list of contestants for Karnataka Polls. Even though Congress President Sonia Gandhi rejected the list, the final list doesn't look any better with very few women contesting the elections. It is not just with the Congress; every party contesting in the Assembly polls has maintained less than 10 percent quota for women candidates.
According to comparative data released last year by the Inter-Parliamentary Union (IPU - an international organization established to promote democracy in the world), India ranks 105th in the world when it comes to women participation in politics. India, which is deemed as the largest democracy in the world, lags behind our neighbouring countries like Pakistan, Bangladesh and Nepal. Latest report from the IPU shows that an average of just 18.5 percent women represent the lower house and upper house combined in Asia.
In India, where caste, creed or religion takes an influential role, it becomes difficult for women to enter politics. According to some leaders, success rate is the main criteria with women scoring low on that aspect. Moreover, women enter politics at a later stage unlike men. Circumstances play a significant role in a woman's entry into politics. For example, JD(S) MLA Kalpana Siddaraju contested the polls in the last assembly elections after the death of her husband who got elected. The sympathy wave helped her win the polls and become an MLA. But, this time she has been denied a ticket and instead, D C Thammanna has been chosen by her party.
Despite facing hurdles, some women leaders have succeeded in taking up bigger roles within their parties. Several women have even broken the barriers and are working towards attaining larger success. Ghousiya Khan from Hospet, Karnataka, is one such woman who has dared to contest the 5 May assembly elections from Vijayanagara (Bellary) constituency.
Ghousiya is one among the 20 candidates contesting the polls from her constituency. Of the 20, only eight are from different parties while others are Independent candidates including Ghousiya. The 29-year-old woman, who hails from a poor Muslim family, is contesting for the first time in the elections.
Ghousiya was born in a family of four boys and two girls (one deceased), and her parents struggled to make ends meet. After completing her PUC, Ghousiya pursued B.A. but had to discontinue following troubles that she faced with respect to her house from some political leaders.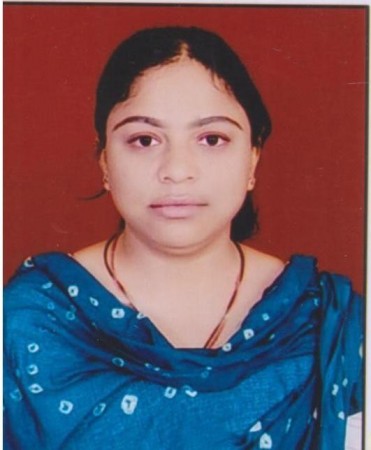 Fight for Justice
In 2009, Ghousiya and her family were threatened by supporters of Tourism minister and BJP candidate Anand Singh, who had an interest in a five-star hotel situated right next to her house. When she was asked to produce the documents, she gave the photocopies to them, which was allegedly forged, showing that her father had sold the property to the hotel owners. She and her family members struggled for four years, during which they approached several officials and political leaders, but nobody came forward to help them. She then filed a petition to the then President of India, Smt.Pratibha Patil from whom she got a response that the matter would be looked at, but no concrete steps were taken to resolve the issue.
Finally, Ghousiya approached a local court which granted an injunction on her house refraining from being taken over. Despite facing threats from various quarters, Ghousiya and her family members remained stubborn and retained their house. This also led her to take a plunge into politics.
Ghousiya, a social worker who runs the Raza Justice and Democracy, Mahila and Youth Protection Andolan, decided to contest the elections to fight against corruption and serve the people of her constituency. Speaking to IBTimes India, Ghousiya said that she has been getting good support from the local residents. She said she wants to enable her constituency to become a model of inspiration to others.
Ghousiya, who is using the symbol of an electric pole for the elections, will contest against two main candidates - BJP candidate Anand Singh and H Abdul Wahab of the Congress. She said that even if she wins the elections, she would serve as an independent leader and would not join or even support any political party.
Why Women Should Enter Politics?
According to IPU's report, "When women are involved in all aspects of political life, including as members of parliament, societies are more equitable and democracy is both strengthened and enhanced."
The report - "Equality in Politics: A Survey of Women and Men in Parliaments" - released in 2008 as part of a survey carried out between 2006 and 2008, reveals that prejudice, cultural perceptions about the role of women, lack of financial resources, domestic responsibilities, lack of support from family and lack of confidence are some of the main obstacles for women entering politics.
The survey notes that women tend to have greater responsibility towards highlighting women's concerns. They prioritise concerns, including social issues like equal pay and pensions, concerns like physical safety and gender-based violence, development concerns like poverty alleviation and service delivery.
Besides dealing with women's concerns, several respondents (women) emphasized the need to contribute to a broad range of political discussions.
"Increasing the number of women in parliament is a primary concern; but it is equally important that women, once in parliament, develop and use their positions of influence to participate substantively in decision making," the report said.
(With inputs from KVN Rohit)