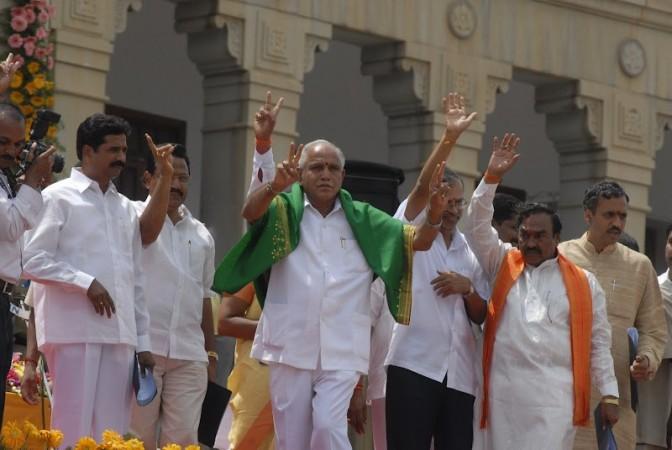 Deepening the prevailing political crisis in Karnataka's Bharatiya Janata Party leadership, the former Chief Minister has threatened mass resignation of his supporters.
The development came after the national BJP President Nitin Gadkari refuse to give any assurance to Yeddyurappa's ultimatum to BJP national leaders to reinstate him as Chief Minister on or before Feb. 27.
The former Chief Minister announced the ultimatum on Thursday during a luncheon hosted by him at his official residence at Bangalore's Race Course.
In an effort to fuse the rift between Yeddyurappa and Chief Minister Sadananda Gowda, Gadkari met both the leaders on the first day of the Chintan Manthan Baithak (brainstorming session) on Friday.
Meanwhile, the second day of the two-day long Chintan Manthan Baithak has been cancelled as BJP leaders want to campaign for Udipi-Chikmangalur Assembly by-polls scheduled for March.
However, senior BJP leader Arun Jaitley maintained that there was no political crisis in the state.
Earlier, Yeddyurappa resigned from the Chief Minister's post after a Lokayukata report indicted him on illegal mining scam six months ago.
Yeddyurappa handpicked Sadananda Gowda as his descendant. However, the cause of the rift is the issue of Yeddyurappa's reinstatement as the chief minister, which seems to be gaining hold.