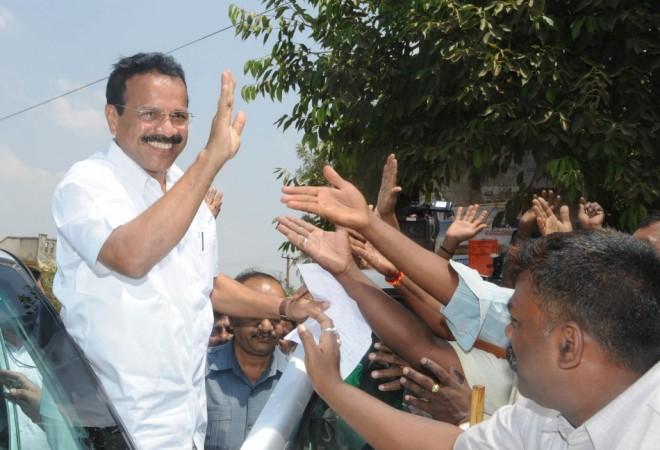 Karnataka Chief Minister Sadananda Gowda met BJP President Nitin Gadkari in New Delhi on Sunday, following a political crisis in the Karnataka unit of the party as a result of B S Yeddyurappa's threat to resign from the state assembly on Monday.
Apart from Gadkari, party leaders Arun Jaitley and Karnataka incharge Dharmendra Pradhan were said to have discussed the state affairs and the future course of action with Gowda in the meeting that lasted for an hour.
According to sources, the Chief Minister of Karnataka is unlikely to be changed.
Meanwhile, Yeddyurappa is expected to hold a crucial meeting with his loyalists to discuss their plan of action in Bangalore on Monday.
According to reports, it has been claimed that nine ministers from the Gowda cabinet have submitted their resignations to protest against Central BJP's rejection to reinstate Yeddyurappa as the chief minister.
In March, Gowda and state BJP president K S Eswarappa sent a letter to BJP president Nitin Gadkari seeking action against some ministers, who are loyal to Yeddyurappa, accusing them of indulging in anti-party activities.
As many as 38 MLAs and some ministers had demanded a legislature party meeting to be convened to discuss party affairs in the state and the letter that the chief minister had written to Gadkari. But Gowda rejected their demand.
Moreover, Yeddyurappa and his loyalists are reportedly angry and upset over Gowda and the state party following lack of support shown to him after a recent Supreme Court order to probe into allegations, including that of illegal mining, nepotism and lands scams against Yeddyurappa. They have demanded Gowda to be removed from the post of the chief minister.
On Sunday, the disgruntled BJP leader went a step ahead and praised Congress president Sonia Gandhi and the unity in their party, causing BJP acute embarrassment.
"I have to praise Sonia Gandhi. When she came to Tumkur for the Siddaganga function; I noticed that Congress party people are united and supportive. If any of their party members get into trouble, they help each other and resolve the issue," Yeddyurappa said.
When asked about it, Gowda said that he was not aware of Yeddyurappa's comments on Sonia Gandhi and also played down the crisis saying that he was not aware of any resignations from any of his cabinet colleagues.
In 2011, Yeddyurappa stepped down as chief minister following a Lokayukta report drafted by Justice Santosh Hedge on Bellary illegal mining that pointed out his possible involvement in Rs 16,000 crore loss to the state exchequer.
But the Karnataka High court quashed an illegal mining case that was filed against him and also Governor H R Bhardwaj's sanction to conduct criminal proceedings against Yeddyurappa.
Yeddyurappa has now intensified his campaign to regain the post of the chief minister. In March, he visited Delhi with the support of 70 of the 100 MLAs in the state to prove that he could come back to power. But party leaders refused to bring back him to power as it would affect their campaign against the Congress party.
(With inputs from IBNS)