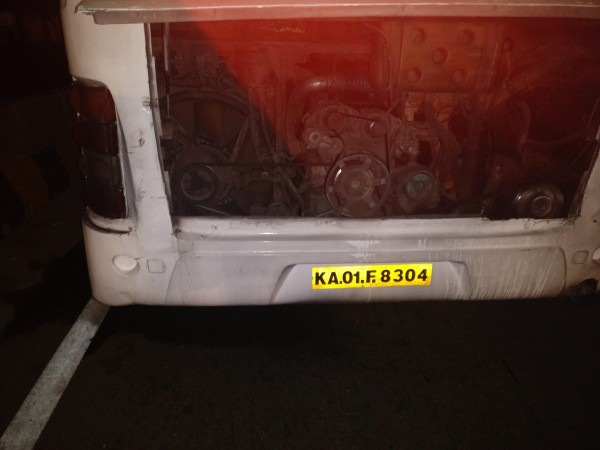 The Karnataka State Road Transport Corporation (KSRTC), which often boasts of providing diligent, efficient and comfortable services to its customers, was on the dock on Friday, January 26, after one of its AC buses travelling from Bangalore to Mangalore was filled with smoke, leaving the passengers concerned about their safety.
Here's what happened
The shocking incident took place on Friday night, when over 20 travellers were aboard one of the state-run Volvo buses.
The passengers had faced hassle in the beginning of the journey, when they realised that they had been downgraded from the multi-axle (Club Class) bus they had paid for to a normal Volvo bus.
To add on their agony, an engine problem with the bus left them stranded on National Highway (NH) 48 for over an hour.
"We were a few kilometres away from Nelmangala when I smelled smoke. As it was late night, most of the passengers, including senior citizens, were asleep and the lights of the bus were off. I did not understand what was going on," Naveen Nayak, one of the passengers, told International Business Times, India, in Bangalore.
"However, people started feeling uneasy as smoke filled up the bus which did not have any ventilation. Soon, visibility deteriorated. We alerted the bus driver and he immediately stopped the vehicle" Nayak added.
The driver and the conductor fetched water from a nearby food joint to cool down the engine but in vain.
Bengaluru authority shifts blame

When the passengers reached out to the KSRTC control room in Bengaluru, they starting shrugging off their responsibility claiming it was the duty of the Mangalore depot to send another bus.
They kept on insisting for over an hour that an alternate bus would arrive in 10 minutes, but no help came.
It was only when Nayak, a reporter with IBTimes in Bengaluru, informed the KSRTC officials that he was a journalist that they took cognizance of the incident and put Nayak in touch with an official called Wilson in Mangalore.
Wilson not only assured them that a bus would arrive by 12:45 am but also said the passengers' money would be refunded.
Assurance notwithstanding, the passengers were left traumatised by the incident, because overheating of the engine could lead to fire. And their fears are not unfounded. There were quite a few incidents some years ago when buses in Karnataka caught fire, leading to several deaths.
IBTimes India has reached out to KSRTC over the current incident, but is yet to get a reply.