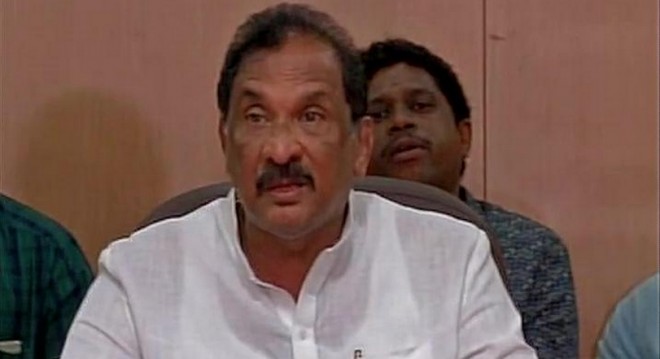 KJ George, the Minister for Bengaluru Development and Town Planning, tendered his resignation on Monday following a local court order which stated that charges will be filed against him and two other police officers for abetting the suicide of Deputy Superintendent of Police MK Ganapathy.
Karnataka Minister KJ George resigns after JMFC Court orders FIR registration against him in Dy SP Ganpathi suicide case: Sources

— ANI (@ANI_news) July 18, 2016
The other two police officers against whom an FIR will be registered are Additional Director General of Police (Intelligence) AM Prasad and Inspector General of Police (Lokayukta) Pranab Mohanty.
"Whatever the Court decides, we will abide. I am 100% sure I will come clean," minister KJ George was quoted by the Deccan Chronicle as saying.
Ganapathy's son Nehal Ganapathy had approached the court for orders to the police to file an FIR against those who were named by his father in an interview to a local channel a few hours before committing suicide.
Nehal and Ganapathy's wife, Pavana, had earlier stated that the police had dismissed the complaint filed by them against George, Prasad and Mohanty at the Kushalanagar police station on July 10.
His complaint appealed to the court to take cognisance of the offence punishable under Section 306 of the Indian Penal Code read with Section 34. It also stated that highly influential people were preventing the police from taking action.
The investigating officers will question the three accused and then decide whether to arrest them depending on the investigation, MT Nanaiah, Nehal's counsel, was quoted as saying by the daily.
Meanwhile, Jagadish Shettar, BJP leader in Opposition, said that minister George should give in his resignation immediately while the two police officers should be suspended to make sure that the investigation is impartial.
DySP Ganapathy, 51, was found hanging from a ceiling fan in Madikeri hours after he mentioned in an interview to a local TV channel the minister, Prasad and Mohanty would be held responsible "if anything happens to me".
The Criminal Investigation Department (CID) is currently investigating the suicide case.
Meanwhile, a judicial commission headed by K N Keshavanarayana has been formed by the Karnataka government to look into the alleged suicide. However, the Opposition has been demanding a CBI inquiry and the minister's resignation, the daily reported.