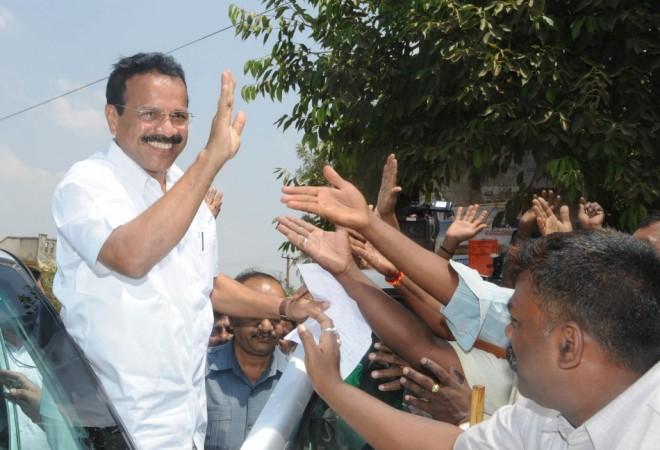 The prevailing political crisis in Karnataka seems to be far from over with Chief Minister DV Sadananda Gowda refusing to accept the resignations of nine ministers after Saturday's meeting with his loyalists.
Meanwhile, two more supporters of former CM and BS Yeddyurapp- Shobha Karndalaje and Raju Gowda are expected to put down papers on Saturday, as they were out of station on Friday.
Sadananda Gowda has met Governor Governor H R Bhardwaj at the Raj Bhavan amidst brewing crisis in the state Cabinet.
After a meeting with the Chief Minister in Bangalore, state BJP President K S Eshwarappa told reporters: "There is no question of accepting the resignation of the ministers."
He added that he has confidence that the agitating ministers will abide by any decision of party's central leadership even as he ruled out change in leadership.
However, rebel ministers are unlikely to settle down anything less than change in state leadership.
BJP's national general secretary in-charge for Karnataka affairs, Dharmendra Pradhan, is coming to the state to end the ongoing political crisis.
The nine ministers who submitted their resignation letters are: Minister of Rural Development Jagadish Shettar, PWD minister CM Udasi, Housing Department minister V Sommanna, Medium and Major Irrigation minister Basavaraj Bommai, Medium and Major Industries minister Murugesh Nirani, Mass Education, Public Libraries, Small Savings and Lotteries minister Revu Naik Belamagi, Public Works Department minister M.P. Renukacharya and minister for agriculture, Umesh Katti.
Eight of the nine ministers personally handed over their resignations to the Sadananda Gowda on Friday.
Yeddyurappa failed to persuade the BJP high command in giving back his lost chief minister post in Karnataka helm. He also feels let down by the party both in state and in the centre, as they refrained from getting into Yeddyurappa's legal trouble.
Hence, Yeddyurappa has been staging several high political dramas in the state, adding more problem to the BJP.