Five days after being sworn in as the chief minister of Karnataka, K. Siddaramaiah on Saturday expanded his ministry by inducting 28 ministers into the state Cabinet.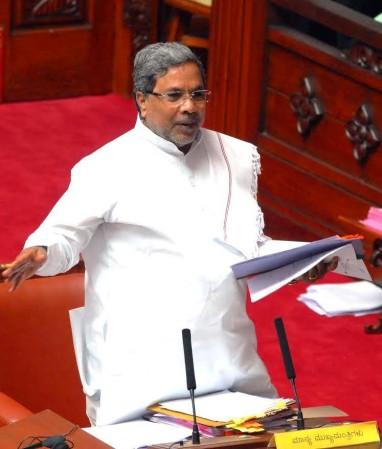 The new ministers were sworn in by Governor HR Bhardwaj at the Raj Bhavan in Bangalore on Saturday.
Seniors leaders like RV Deshpande and actor-turned-politician Ambareesh were included in the cabinet but 'tainted' leaders like mining baron and Rajya Sabha member Anil Lad, former working President of Karnataka Pradesh Congress Committee D K Shivakumar and R Roshan Baig were sidelined.
Meanwhile, young leaders like Dinesh Gundu Rao and Krishna Byre Gowda, and lone woman representative, actress Umashree made it to the cabinet. Veteran Congress leader Kagodu Thimmappa has been made the speaker of the Assembly.
Siddaramaiah, who took the charge as the chief minister of the state on Monday, went to Delhi after the swearing in ceremony to meet the party leadership to finalise on his cabinet.
The Congress came to power in Karnataka after seven years by defeating the Bharatiya Janata Party (BJP) in the recent state Assembly elections. The BJP suffered a humiliating defeat in the assembly elections with the Congress winning 121 in the 224-member Assembly. The polling of the Periyapatna constituency in Mysore district has been postponed to 28 May due to the demise of BJP candidate Sannamoge Gowda.
The Congress had last formed a coalition government with JD(S) in Karnataka in 2004 but it did not last long, giving way for BJP to head the state.
Here is the complete list of CM Siddaramaiah's Cabinet:
Cabinet Ministers
1. R V Deshpande
2. Qamar-ul-Islam
3. Prakash B Hukkeri
4. Ramalinga Reddy
5. T B Jayachandra
6. B Ramanath Rai
7. H K Patil
8. Shamanur Shivashankarappa
9. V Srinivasa Prasad
10. H C Mahadevappa
11. K J George
12. H S Mahadeva Prasad
13. M H Ambarish
14. Vinay Kumar Sorake
15. Baburao Chinchanasur
16. U T Khadar
17. Satish Jarkiholi
18. M B Patil
19. H Anjaneya
20. Shivaraj S Thangadagi
Ministers of State
21. Abhaychandra Jain
22. Dinesh Gundurao
23. Krishna Byregowda
24. Sharana Prakash Patil
25. Santosh Lad
26. Kimmane Ratnakar
27. Umashree
28. P T Parameshwar Naik.