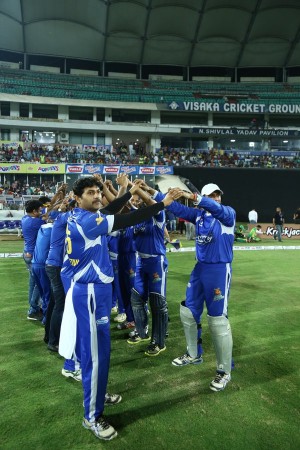 Sudeep's Karnataka Bulldozers entered the semi-final stage of Celebrity Cricket League (CCL) 6, defeating Telugu Warriors on Sunday, 7 February. The Sandalwood team clinched the thriller by five runs.
After winning the toss, Telugu Warriors put in the Karnataka team to bat first. The Tollywood team's decision seemed like the right choice till 10 overs, as Sudeep's men struggled to get runs. But opener Pradeep (82 not out off 56 balls) and Dhruv Sharma (74 from 38 balls) changed the course of the game in the next 10 overs with their brilliant batting. Also, poor fielding by Akhil Akkineni's men gave a big advantage to the batting team.
Having set Telugu Warriors a target of 210 runs, Karnataka Bulldozers took the field with huge confidence, but the Tollywood team shocked them with attacking cricket. As a result, Telugu Warriors managed to dominate most parts of the chase. The star performer for the Tollywood team was Ashwyn, who played a stunning innings, scoring 74 off 30 balls.
In the end, the Kannada team had the last laugh in the final over to win the match by 5 runs. This victory ensured them a place in the next level of CCL 6.
This is the sixth time in a row Karnataka Bulldozers have entered the semi-final stage, and it is a record. The Sandalwood team has actually made it into the final four consecutive times and won the trophy twice.
Karnataka Bulldozers failed to enter the last stage in the previous edition, losing to Chennai Rhinos in the semi-final. Nonetheless, the Sandalwood team has been performing consistently in the tournament since its inaugural season in 2011.
In CCL 6, Karnataka Bulldozers defeated Chennai Rhinos in their first match by 83 runs. However, they lost their second game to Kerala Strikers by six wickets. In the semi-final, Karnataka Bulldozers will either face Bhojpuri Dabanggs or Bengal Tigers.