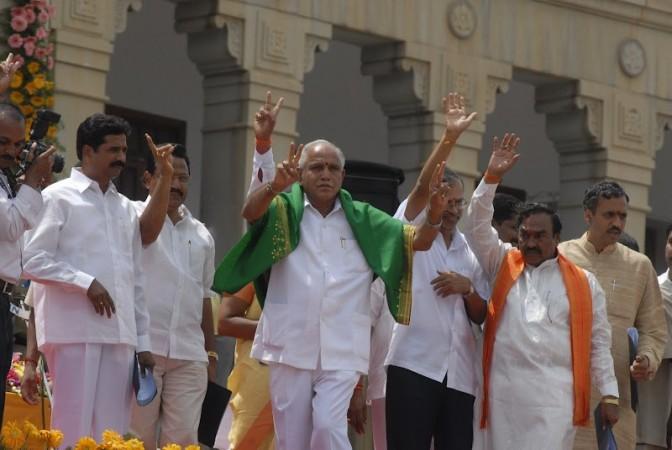 Bharatiya Janata Party (BJP) leader BS Yeddyurappa who has been demanding the central leadership to reinstate him as the Chief Minister of Karnataka, has now got his way with the expansion of state Cabinet next week, reserving a few lucrative berths for his loyalists.
Since last year, Yeddyurappa has made several attempts to re-install himself as the Chief Minister of Karnataka. However, he had failed to persuade the central leadership to agree to his demands as he was reeling under various charges of corruption against him.
The decision to expand the state cabinet was taken at Saturday's meeting at the BJP party office in Bangalore. Chief Minister Sadananda Gowda, party president KS Eshwarappa and Minister Jagadish Shettar held a brief meeting before they formally announced the decision to media persons waiting outside the office.
"All confusions have been cleared among BJP leaders. We will be expanding out cabinet next week," state party president KS Eshwarappa told reporters.
"Henceforth, we'll have no problem. All is fine with the party. We'll stay united. The central government had hatched a conspiracy to malign BJP's image by colluding with the CVC and CBI. Our leaders will win the battle."
According to BJP sources, 11 ministers may be inducted in the cabinet. Karnataka Chief Minister Sadananda Gowda presently holds 19 portfolios.
The news of the Cabinet expansion comes a day after a Supreme Court commissioned panel, Central Empowered Committee (CEC), recommended a CBI probe against Yeddyurappa.
Yeddyurappa's loyalists getting important portfolios in the state cabinet would make his position more powerful in Karnataka's BJP party. This might come in handy, when he's battling the various legal cases against him.
Yeddyurappa, being a powerful leader from the lingayat community, was instrumental in bringing the first ever BJP government to south India. He was going from one crisis to another since the day he assumed the Chief Minister's office in Karnataka.
On July 31, 2011, Yeddyurappa resigned after a Lokayukta report, drafted by Justice Santosh Hedge on Bellary illegal mining, indicted his possible involvement in a Rs 16,000 crore loss to the state exchequer.
(With inputs from IBNS)