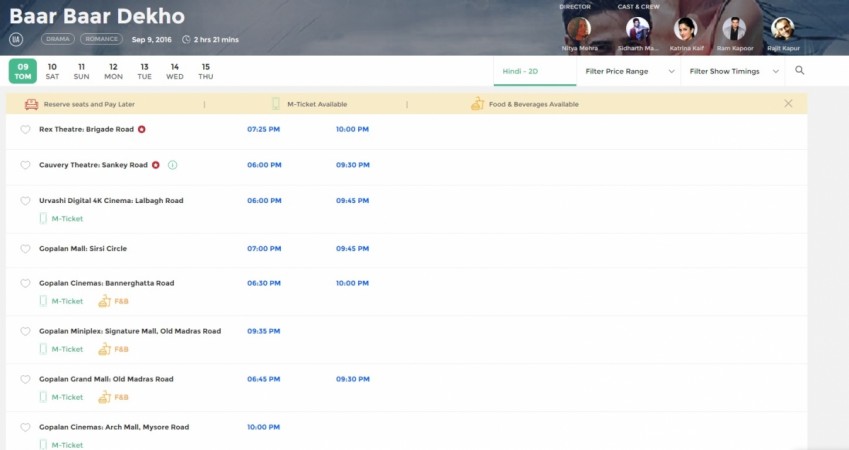 The morning shows of movies on Friday have been cancelled in Bangalore and other cities following the call for a bandh in the state. The decision will adversely affect the films slated to be released on Sept. 9, including the two Bollywood movies — "Baar Baar Dekho" and "Freaky Ali."
All the multiplexes and single screen theatres in Bangalore have cancelled the day shows for "Baar Baar Dekho" and "Freaky Ali." Tickets will be available for the movies only after 6 p.m., when the bandh ends.
The ticket booking website, Bookmyshow, does not show any availability of morning tickets for "Baar Baar Dekho" and "Freaky Ali" across Bangalore. All the available show timings are after 6 p.m. for both the films. While the tickets for "Baar Baar Dekho" are available post 6 p.m. at nine theatres in Bangalore, only three theatres in the city have allotted space for "Freaky Ali" on Friday, according to Bookmyshow.
The popular multiplex in Garuda Mall in Bangalore confirmed to International Business Times, India that the shows for both the movies will begin only after 6 p.m. The scenario, however, seems to be different in Mangalore as a couple of theatres are offering morning and mid-day tickets for both the films on Bookmyshow.
However, the impact of Karnataka bandh appears to be much stronger in Mysore, as no tickets are visible on Bookmyshow for the entire Friday. Theatres in many other parts of the state have also cancelled all the shows of "Baar Baar Dekho" and "Freaky Ali" for the entire day.
In Belagavi, which is considered a sensitive area, at least one cinema hall is holding the shows for "Baar Baar Dekho" post afternoon. Other major places in the state, like Bellary, Bidar, Hubli, Madikeri, Mandya and Tumkur, have no shows for the films on Friday, as per Bookmyshow.
With such a scenario across the state, the opening day collections of "Baar Baar Dekho" and "Freaky Ali" in Karnataka will be badly affected.
The Karnataka strike on Sept. 9 has been called in protest against the Supreme Court's ruling asking the state to release Cauvery water to Tamil Nadu for 10 days. The bandh has been called by pro-Kannada organisations and some farmers' unions.
A Bharat bandh was also called on last Friday by some trade unions demanding hike in minimum wage. However, the nation-wide strike did not have much impact in Karnataka, and several theatres had screened Sonakshi SIinha's "Akira."