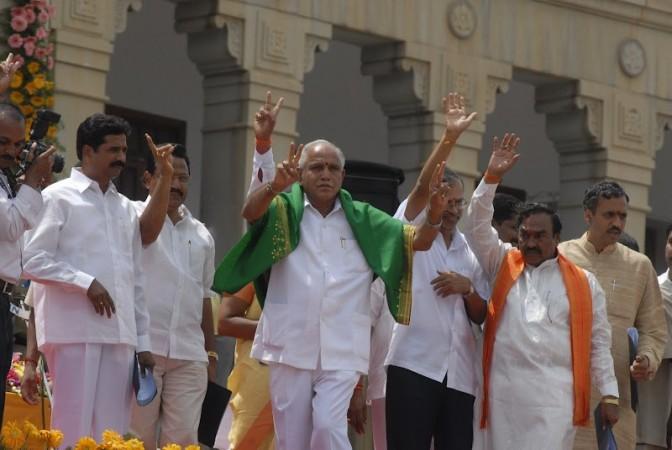 Intensifying his attack against Karnataka chief minister DV Sadananda Gowda, minister of rural development Jagadish Shettar on Sunday released a list of 51 MLAs, who are allegedly willing to resign if the central leadership fails to replace Gowda at the earliest date.
This comes a day before the scheduled meeting of Gowda with the senior party leaders in New Delhi over the ongoing political issues in Karnataka. The BJP top brass summoned the controversy-hit chief minister (Gowda) to the capital on Sunday.
The latest move by the BS Yeddyurappa camp is touted as a prelude to the party high command about the possible consequences, if they didn't remove Gowda from his chief minister post.
If 51 MLAs file their resignation en masse, it will be just a matter of time before the country will see the first BJP government in the south collapsing, due to the internal feud. It will be a nightmare for the BJP central leaders if these MLAs resign.
The rebel leaders in Karnataka accused Gowda of acting at the behest of JD(S) party leaders and not taking his own party ministers into confidence.
Former chief minister BS Yeddyurappa is a powerful leader form the Lingayat community. He was instrumental in bringing the first ever BJP government in the south to power. However, at present he has seemingly become one of the biggest threats to his own party, often endangering BJP's rule in Karnataka.
Yeddyurappa is facing serious allegations of misusing his powers as chief minister and indulging in corruption. He was asked to resign his post last year following a Lokayukta report, which indicated his possible involvement in illegal mining in Bellary districts.
Since then, Yeddyurappa has made several attempts to regain his lost chief minister post. However, convinced by the fact that his party is highly reluctant about awarding him the top post, now he is demanding Gowda be replaced with his favourite leader Shettar from the Lingayat community.