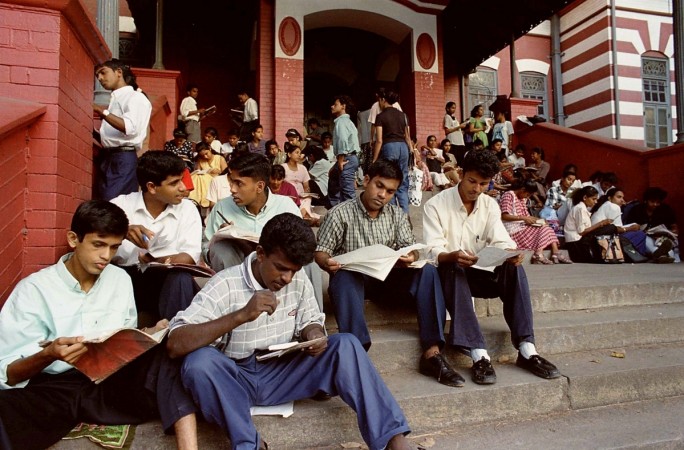 The re-examination of second-year PU chemistry paper in Karnataka has been rescheduled to March 31, state Primary and Secondary Education Minister Kimmane Rathnakar told reporters Thursday. The re-examination, initially scheduled for March 29, was postponed following protests demanding the withdrawal of the re-examination.
A meeting was conducted by Legislative Council Deputy Chairman Marithibbe Gowda, and attended by more than a dozen elected representatives, the Hindu reported. Ratnakar and senior Department of Pre-University Education officials were also present at the meeting, where the decision over the rescheduling of the re-examination was reportedly taken.
The decision comes after the PU education department authorities learnt the paper for the examination, which was held Monday, had leaked in two centres.
Preliminary investigation revealed the paper was leaked in one college in the Ballari district, about 300 km from Bengaluru, and at another state-run college in Malur in the Kolar district, about 46 km from the city. PU education department director Pallavi Akruthi was quoted by PTI as telling IANS the department had suspended chief superintendents and their deputies in both exam centres.
Educational authorities had earlier said the re-examination would take place March 29, but several argued students who have their Kannada paper on March 28 would be at a disadvantage as they would have less than a day to prepare for the test. Tamil, Malayalam and Arabic examinations are also scheduled for March 28.
The re-examination decision by the department was condemned by students and parents, who had staged a protest outside the Department of Pre-University Education (DPUE) at Bengaluru since Tuesday.
However, the information department issued a statement on behalf of the PU board just hours before before the March 31 date was confirmed.
"Prime facie, the (question paper) leak has been proven and the case handed over to the CID. The re-examination will be held on March 29 as announced earlier. No question of advancing or postponing it, [sic]" the Times of India quoted the information department as saying in a statement. "Keeping in mind the entrance examinations of IISc on April 3, IITs (April 9), JEE on May 1 and CET on May 4 to 6, and the SSLC examinations from March 30 to April 13, the (chemistry re-exam) date has been decided as March 29. There will be a problem of space otherwise. [sic]"