A week after Karthi's Sulthan, yet another big film in the form of Dhanush's Karnan is hitting the screens on Friday, 9 April. The 'Kolaveri Di' hitmaker is returning after the 2020 Pongal release Pattas, which had failed to set the box office on fire.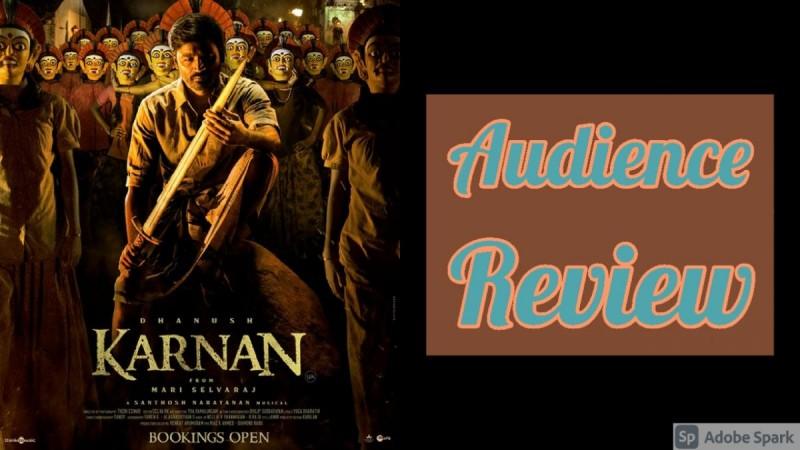 Karnan, an Action Drama
Karnan is an action movie set in the rural drop. It is about a youth who comes as the saviour of the oppressed. He has to fight for the rights of the conservative people in his village. In the teaser released two weeks ago, it was clear that the film will have violence in the story, but to what extent is unclear as the sword-wielding hero prepares for the battle.
Not a single drop of blood was shown in the teaser, but the audience could sense the violence that unfolds in the story.
Cast and Crew:
After Pariyerum Perumal, Mari Selvaraj is back with Karnan. Produced by Kalaippuli S Thanu, the film has Lal Paul, Yogi Babu, Natarajan Subramaniam, Rajisha Vijayan and others in the cast. Santhosh Narayanan has scored the music for the movie which has Theni Eshwar's cinematography and Selva RK's editing.
Reviews:
Karnan has managed to generate good buzz before the release. With a 50 percent cap in occupancy, the film has to get good reviews to recover its investment. Can the movie live up to the expectations and become a successful venture like Vijay's Master which hit the screens for Pongal earlier this year?
The early response coming from the audience indicate that the first half of Karnan has been enjoyed by the fans of Dhanush and now they are looking forward to the second half. Check out the tweets below:
Haricharan Pudipeddi: 5 stars for #Karnan. The hype is real. Extremely powerful, haunting drama about class divide and fighting for one's identity. By the end of the film, you're left shaken from the inside. You're left speechless.
@mari_selvaraj and @Dhanush give us a film to remember for years.
Halfway through #Karnan. Absolutely spellbound Folded hands
@dhanushkraja is taking this to next level Fire
Siddarth Srinivas: #Karnan Interval: Bloody good. Mari Selvaraj skilfully builds up an engrossing drama laden with emotional tension. @dhanushkraja in a fierce, firing role is setting up another long list of awards already, this is a spectacular film so far with lots of clap-worthy moments!
S Abishek Raaja: @mari_selvaraj creates a very strong visual imagery using metaphors.
@dhanushkraja is one of the very few heroes who submits himself to the vision of the director.
The story is caught in a loop. Waiting to witness more. What an asset
@Music_Santhosh is. #Karnan
Rajasekar: #Karnan first half - FireBrand
@mari_selvaraj film, the donkey and idol metaphors are mind blowing. Several mass moments for
@dhanushkraja who has expressed the pain and anger of the oppressed. @Music_Santhosh and #TheniEeshwar have helped Mari in conveying the core message 1/2
Without any explicit dialogues. @mari_selvaraj has once again proved that to register the pain of the oppressed you don't really have to hurt others. Amazing craftsmanship although a few lip sync issues here & there (I'm nitpicking). Authenticity of Tirunelveli ppl's lifestyle Ok hand
Christopher Kanagaraj: #Karnan - Dhanush is Fantastic. Lal Super. Rajisha's role is less. Gud perf frm Laxmipriya. Apt BGM & Visuals. Usage of animals & landscape is beautiful. Length is d only drawback. Yet another Powerful film from Mari Selvaraj. His efforts r clearly visible in each frame. WORTH!
KEERTHI: What kind of actor he becomes year by year...?? How Dhanush choosing his scripts with this much quality...??
He is a pride of Tamil Cinema...!!!
#RealHero #Karnan
DhanushWarriors: #Karnan - கர்ணன் அனைத்தையும் கொடுப்பவன். First half done, #Karnan will be an epic film, Loving the way @mari_selvaraj addressing important caste issues. Waiting for the second half.
#KarnanFDFS
Special mention to @Music_Santhosh for his gripping nativity music.
@iYogiBabu in a new dimension
Totally new @LakshmiPriyaaC @Gourayy
#KarnanFDFS
Dinesh: #Karnan interval - Simple formula. When the oppressed fights back, it always turn out to be a treat for audience. What makes it intense here is Mari selvaraj's nuances in screenplay and Sana's bgm!