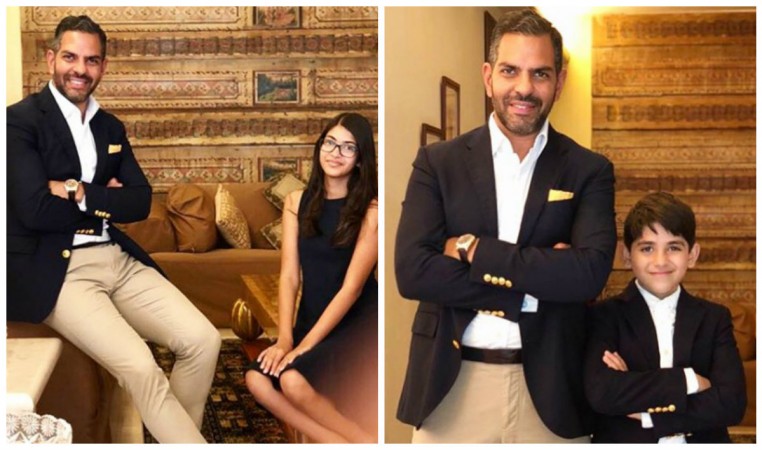 Karisma Kapoor and her ex-husband Sunjay Kapur may not be sharing a cordial relationship anymore, but the latter still bonds well with their children.
Sunjay's present wife Priya Sachdev Kapur shared some pictures on Instagram that beautifully show the bond that he has with his son and daughter.
Also read: Hrithik Roshan, Sussanne Khan to remarry?
After Karisma and Sunjay's divorce, the latter was granted visitation rights. This is the first time photos of Sunjay spending some quality time with his kids appeared online.
In the first picture, the father posed with daughter Samaira and in the second photo, he and his son Kiaan Raj are seen imitating each other. The children reportedly went to Delhi to be with their father for some time.
While the pictures are adorable, another interesting aspect is that the photos have been shared by none other than Sunjay's present wife, Priya.
She also added a nice caption to it that read, "#Twosday The perfect twosday post ! Loving, doting, caring and an amazing father. [sic]."
Karisma and Sunjay had tied the knot in 2003, but due to serious personal differences, they officially parted ways in 2016. Their divorce was a nasty one. Sunjay had alleged that Karisma married him just for money, while the latter accused him of domestic violence.
Post their divorce, Sunjay got hitched with Priya in April 2017. On the other side, Karisma is also expected to tie the knot with boyfriend Sandeep Toshiwal, who got divorced from Ashrita a few months ago.
Hrithik Roshan and Sussanne Khan are another ex-couple who are no longer together but are often seen spending time together with their kids. There are rumours that Hrithik and his ex-wife are thinking to re-marry.
"Hrithik and Sussanne are working it out. They identified the stress areas in their relationship and are doing their best to work their way around them. Give them time — they will come together again," their close friend was quoted as saying by Deccan Chronicle.