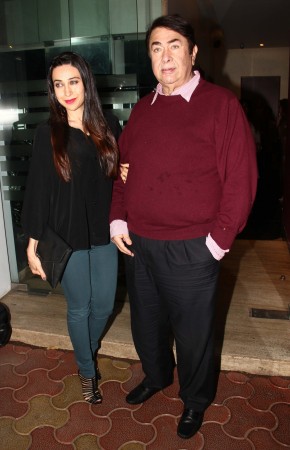 Bollywood actress Karisma Kapoor and her husband, industrialist Sunjay Kapur, have separated for over five years now. Recently Sunjay has filed a fresh divorce petition accusing Karisma of marrying him for money.
A lot of big allegations have been made in the petition, which also claimed Karisma had had an extra-marital affair. On the other hand, Karisma's father Randhir Kapoor called Sunjay "a third-class man" when asked about the petition.
"Everyone knows our ­credentials. We are Kapoors. We don't need to run after anyone's money. We have been blessed with not only money but our also talent, which can support us for the rest of our lives," he told Hindustan Times.
"Sunjay is a third-class man. I never wanted Karisma marrying him. He has debauchery in his system and never cared for his wife. He has been giving bull*** to her, and living with another woman. The entire Delhi knows how he is. I would not like to say anything more than this," he added.
Karisma's lawyer Kranti Sathe termed Sunjay's accusations atrocious and false. "We will tell the court he is causing great harm to the children's welfare by spreading false stories. We don't want trial by media," Sathe told Mumbai Mirror.
In the petition, Sunjay accused Karisma of choosing her career over him and also cheating on him. It suggests Karisma portrayed Sunjay as a substance-abuser, cheater and alcoholic.
After so many years, the duo's divorce is still on hold as the issue of their kids' custody, which is at the centre of the court battle, has not been resolved yet. The duo has a girl, Samaira Kapoor, and a boy, Kiaan Raj Kapoor.