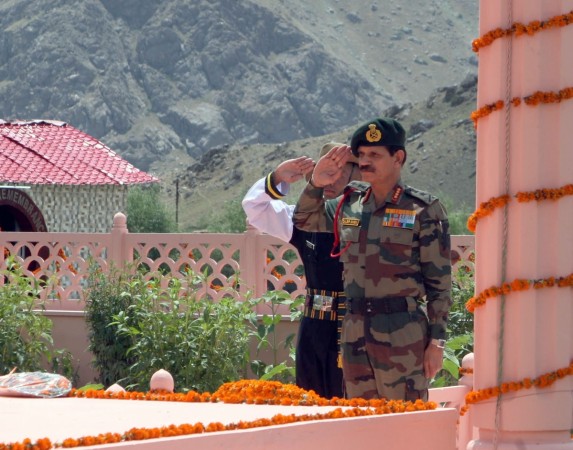 India on Tuesday paid homage to all its soldiers who died during the Kargil War against Pakistan in 1999.
The war that lasted for two months (May-July) took place in Kashmir's Kargil district and around the Line of Control (LoC).
"Operation Vijay" was launched to foil infiltration bids by the Pakistani soldiers and Kashmiri militants on the Indian side of the LoC.
The Indian Army, along with the Indian Air Force, recaptured the posts that were occupied by Pakistani infiltrators on July 26, 1999.
Since then, July 26 is observed as Kargil Diwas in India to honour the brave and valiant soldiers who sacrificed their lives to keep the country safe.
As India celebrated the 17th anniversary of the Kargil war, tributes poured in from across the country. Politicians, sports personalities and members of the film industry also paid respects.
On Kargil Vijay Diwas I bow to every valiant soldier who fought for India till the very last breath. Their heroic sacrifices inspire us.

— Narendra Modi (@narendramodi) July 26, 2016
India will never forget the fearlessness with which our courageous soldiers gave a befitting & unforgettable reply to the intruders. — Narendra Modi (@narendramodi) July 26, 2016
We recall with pride, the firmness demonstrated by India's political leadership in 1999, which ensured a decisive victory in Kargil.

— Narendra Modi (@narendramodi) July 26, 2016
Remembering the heroes of Kargil war victory for their bravery and sacrifice. I join the Nation in saluting them. — Manohar Parrikar (@manoharparrikar) July 26, 2016
Paid my tributes to the brave martyrs on Kargil Vijay Diwas. pic.twitter.com/A4utdYldnZ

— Manohar Parrikar (@manoharparrikar) July 26, 2016
Homage to all our brave martyrs and a salute to all our brave soldiers on #KargilVijayDiwas — Mamata Banerjee (@MamataOfficial) July 26, 2016
कारगिल में देश के लिये शहीद होने वाले वीर जांबाजों पर पूरे देश को गर्व । https://t.co/DgcXwsKM2o

— ashutosh (@ashutosh83B) July 26, 2016
Paying tribute today to the brave soldiers who gave up their lives for the nation.Your sacrifice can never be forgotten #KargilVijayDiwas — Office of RG (@OfficeOfRG) July 26, 2016
Bow down to the selfless heroes of our country on #KargilVijayDiwas
We r at peace only bcoz of ur efforts&sacrifices pic.twitter.com/uGFdzRcr0S

— Virender Sehwag (@virendersehwag) July 26, 2016
Salute to our soldiers because of whom we sleep peacefully.True Heroes. Jai Jawan !#kargilvijaydiwas pic.twitter.com/yvNm7SSg67 — Vijender Singh (@boxervijender) July 26, 2016
We Salute our soldiers. Keep inspiring us! #KargilVijayDiwas pic.twitter.com/2v65OAYgzP

— Gutta Jwala (@Guttajwala) July 26, 2016
Respect and admiration. Always. #kargilvijaydiwas — Harsha Bhogle (@bhogleharsha) July 26, 2016
On #KargilVijayDiwas I Salute our ever vigilant,dedicated,motivated Jawans who sacrifice their lives 2 protect our motherland #Inspiration

— VVS Laxman (@VVSLaxman281) July 26, 2016
#KargilVijayDiwas Never Forget#respect — atul kasbekar (@atulkasbekar) July 26, 2016
On #KargilVijayDiwas I express my gratitude and salute all the braves soldiers who gave their lives to protect our Motherland. #JaiHind

— Madhur Bhandarkar (@imbhandarkar) July 26, 2016
On #kargilvijaydiwas Let's all together apologise to soldiers & their families for attacking them by throwing stones & acid — Ashoke Pandit (@ashokepandit) July 26, 2016
A reminder to all the #WhiteCollared #Trrsts that today is #KargilVijayDiwas.U r alive because of these very soldiers.

— Ashoke Pandit (@ashokepandit) July 26, 2016
#kargilvijaydiwas is about triumph, victory & patriotism. It is also about sacrifice, loss & tragedy. Jai Hind. pic.twitter.com/7URlF7PJ7G — Anupam Kher (@AnupamPkher) July 26, 2016