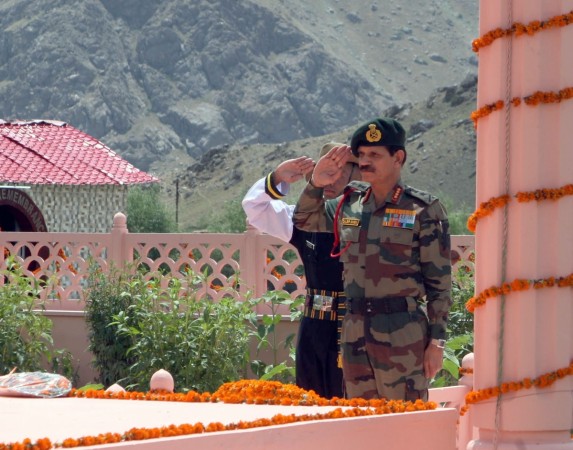 The nation is celebrating Kargil Vijay Diwas in memory of India's victory over Pakistan during the Kargil War on July 26, 1999. Named after Operation Vijay, it commemorates the day when Indian soldiers took back the high outposts that were earlier taken over by Pakistan.
The occasion is celebrated in Kargil-Drass and in New Delhi, where the prime minister lays a wreath at India Gate for the fallen soldiers. The India Gate is a symbol of great sacrifice by Indian soldiers in the cause of war.
The sense of patriotism and appreciation for the Army did not stay isolated to Drass in Jammu and Kashmir or the Amar Jawan Jyoti in New Delhi, the event also trended on Twitter with people sharing their sense of patriotism with fellow Indians.
Many chose to salute the soldiers, alive and dead, on the 17th Kargil Vijay Diwas while others waxed nostalgic about the 1999 Kargil War and its merits and demerits.
There was considerable human loss on both sides of the border during the war, and Indians laud the efforts of the soldiers and commend the Army for its continued hard work to keep the country safe.
Here is what some Twitter users had to say about the Kargil Vijay Diwas.
Today is 17th #KargilVijayDiwas.The day is observed in the honor of our soldiers.My Father z part of it. #JaiHind pic.twitter.com/GFLA3KvBmN

— Shashi Singh (@solicitorShashi) July 26, 2016
#kargilvijaydiwas remembering the martyrs and their sacrifices... With a note to self that enemy is still lurking in shadows.. — आदर्श कुमार (@NerdOnParole) July 26, 2016
Remembering the 527 Jawans,JCOs,officers of our army who sacrificed their lives for our motherland in July 1999.Jai Hind! #kargilvijaydiwas

— Rajesh Kalra (@rajeshkalra) July 26, 2016
#KargilVijayDiwas "Some goals are so worthy, it's glorious even to fail" - ParamVirChakra Capt. Manoj Pandey Martyr..Aged 24 — Priyank (@dypriyank) July 26, 2016
On #KargilVijayDiwas, I salute brave soldiers of #IndianArmy who laid supreme sacrifice while guarding our borders. #JaiHind

— Rana Gurmit S Sodhi (@iranasodhi) July 26, 2016
Some people lamented over the fact that not much has changed in South Asia.
The most unfortunate thing - not much has changed in South Asia since 1999. Worse, it has become more treacherous #kargilvijaydiwas

— Anand Dahihandekar (@adahihandekar) July 26, 2016
Internationally famed sand artist Sudarshan Pattnaik created a sand art piece to pay homage to the soldiers.
Few of my sand arts on the occasion of #KargilVijayDiwas . We take pride in our brave soldiers. My salute! pic.twitter.com/g4sOVoct2w — Sudarsan Pattnaik (@sudarsansand) July 26, 2016