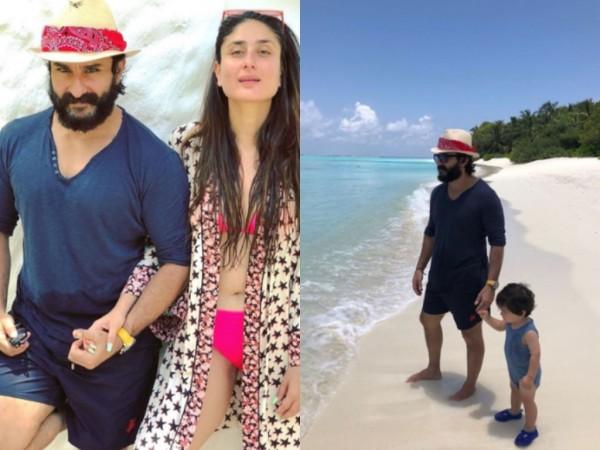 Saif Ali Khan and Kareena Kapoor Khan's son Taimur Ali Khan is on vacation with his parents in the Maldives, and we are missing his daily pictures from the paps! But fret not, as Taimur's aunt Soha Ali Khan has been sharing his pictures from Maldives. The actress is holidaying with her daughter Inaaya Naumi Kemmu and husband Kunal Khemu.
We had earlier shared a picture of Taimur holidaying in the Maldives with Saif Ali Khan and Kareena Kapoor and also his airport pictures from Mumbai when the family was on the way to an exotic resort in the Maldives.
Now, there are fresh pictures of the Taimur, Inaaya, Saifeena and Soha-Kunal, enjoying the sun and sand on their special holiday. Take a look at some of the photos and videos shared by Soha, Kunal, and some fans in the Maldives.
Soha Ali Khan shared this picture of her brother Saif and sis-in-law Kareena Kapoor Khan with the caption, "Wall of fame". Her Bhabhi Bebo is seen in a shocking pink bikini and looking fresh!
Soha also shared a cute picture of Taimur on the beach with his daddy Saif Ali Khan. "Hand in hand - feet in sand", she captioned the pic.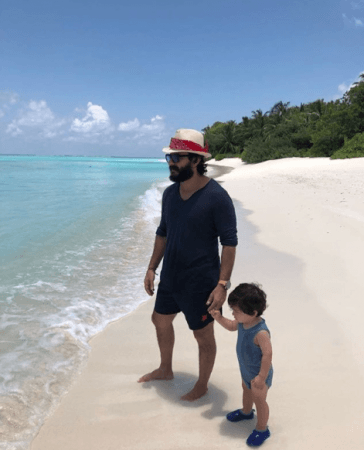 Soha Ali Khan had earlier posted Taimur and Inaaya with sheets from colouring books as an activity for the children! Kareena Kapoor and Kunal Khemu were also in the image.
There is also a very colourful photo of the entire family in what looks like a small swimming pool or a jacuzzi in Maldives, posted by Soha Ali Khan. Little Taimur is seen with swimming tubes on his arms.
Kunal Khemu has posted a cute picture of daughter Inaaya with the caption, "My sunshine checking out the sunshine and the sea."
He has also shared pictures with lovely wife Soha. We can't stop thinking how good they look together! "No caption no filter", he says in one image while captioning the other as, "Into the Blue with my Boo".
The Kareena Kapoor Arab FC fanpage on Instagram has managed to get hold of a video of Kareena enjoying the sun in the Maldives. Take a look!
One of the first pictures shared by Soha on her Insta stories of the Khan and Khemu family on the way to the Maldives.
Another one of Soha Ali Khan in the seaplane.
Aren't these pictures absolutely amazing?
#TaimurAliKhan looks sleepy as he accompanies #KareenaKapoorKhan, #SaifAliKhan to Maldives. See pics https://t.co/28stZU7Iod pic.twitter.com/mgfjscYXuT — HT Entertainment (@htshowbiz) September 2, 2018