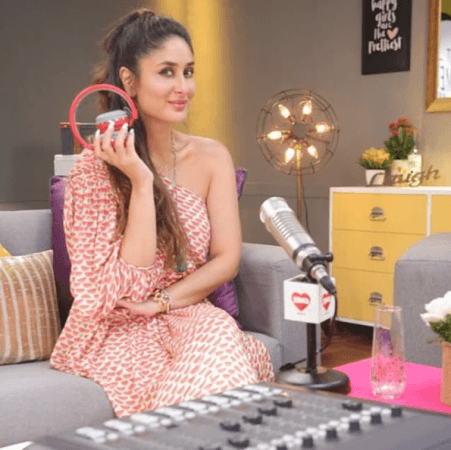 After Bollywood filmmaker Karan Johar, it is the turn of the gorgeous actress Kareena Kapoor Khan to host a radio show on Ishq FM.
Karan Johar, who is the bestie of Kareena Kapoor Khan and recently said he would've married her if he were interested in marriage and she was single, hosts a radio show on Ishq FM.
Kareena Kapoor is all set to host her own show on the radio channel!
Ishq FM announced the same on its Instagram with a special photo of Kareena Kapoor from the show, after the Mumbai Mirror report about it on September 13. Knowing how elusive Kareena is about certain aspects of her personal life, we wonder what she is going to talk about on the radio show! Will it be playing Agony Aunt like Karan Johar?
For now, fans think they could sneak in a question or two about Kareena Kapoor Khan's cutie-pie toddler Taimur Ali Khan and handsome husband Saif Ali Khan. The show will go on air by December 2018 and Kareena Kapoor Khan has already begun work on it!
But Kareena Kapoor has already revealed on a chat show about her second baby that Saif and she are planning to have after two years. For now, little Taimur Ali Khan is the apple of the nation's eye, with the paparazzi going out for his pictures every single day!
We hope Kareena does reveal some cute facts about bringing up Taimur, on the radio chat show on Ishq FM. She has already told the media a lot about her pregnancy and how she is a hands-on and working mother, taking only a few months maternity leave from work.
Kareena Kapoor Khan was recently seen in the film Veere Di Wedding and was appreciated for her performance. She will now be seen in the film Takht, a Karan Johar periodical that also stars other big names like Ranveer Singh, Alia Bhatt, Vicky Kaushal, Janhvi Kapoor, Anil Kapoor and Bhumi Pednekar. The film was announced in August 2018 by Karan Johar.
Kareena will also be seen in a film opposite Akshay Kumar after a gap of a few years.