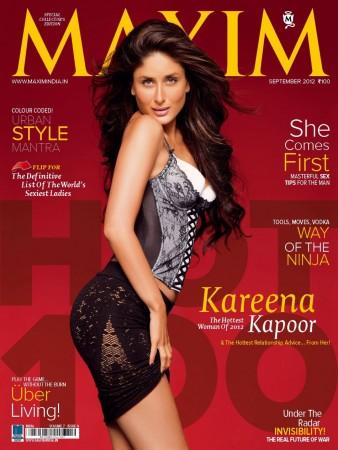 Barely a year after being voted as Asia's Sexiest Woman by Eastern Eye, Bollywood actress Kareena Kapoor has got the title of 'Hottest Woman in the World'.
The 31-year-old actress, who is awaiting the release of her latest film "Heroine", has been voted the Hottest Woman in the World 2012 according to a poll conducted by Maxim India, a men's magazine.
"It is official! Kareena Kapoor is the hottest woman in the world! Sensational actress, gorgeous looking and the winner of Maxim's Hot 100 for 2012... And our covergirl for Sept 2012!" Maxim India declared on its official Facebook page.
"Here she is, boys. The winner of the 2012 Hot 100. What an issue it's gonna be!" Maxim India tweeted along with the photo of Kareena on the cover of the magazine.
Kareena is also the covergirl of Maxim India's September 2012 issue. She looks hot and sensual in a body-hugging top and a lace skirt.
The actress, who is known for her well-toned figure, with the title bestowed on her.
"It is always wonderful to feel sexy and hot. And when it comes from Maxim, which truly recognises hotness in a woman, then it is even better," Times of India quoted her as saying.
"Hotness is about how a woman carries herself. It is not just about a thin waist and long legs. It is about the entire package. I am glad that you guys find me hot and I definitely take it as a big compliment," she added.
Well, it looks like September month belongs to Kareena, as her much-hyped film "Heroine" by Madhur Bhandarkar, is also set for release on her birthday September 21.