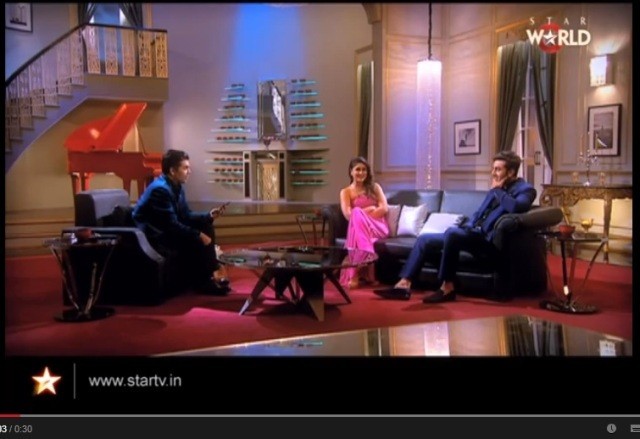 Kareena Kapoor who will appear on "Koffee with Karan" this Sunday with cousin Ranbir Kapoor is seen referring to Katrina Kaif as Ranbir's girlfriend.
A teaser from the upcoming episode shows Kareena pulling Ranbir's leg quite openly.
The gorgeous actress during the episode directly asks the "Barfi!"star, "Are you in love with Katrina?"
Ranbir tries to dodge the question with the answer: "I love Kareena". However, the actress wittily interjected saying, "Just Add a 'T' to it," indicating the obvious.
Host Karan Johar also picks on Ranbir as he asks Kareena, "What would you do if Ranbir gets married to Katrina?"
The actress unhesitatingly replied, "I hope I get the opportunity to dance to 'Chikni Chameli' and 'Sheela ki Jawaani' at Ranbir-Katrina's wedding."
Keeping with the humour, Ranbir further prodded Kareena asking whether she would perform for free in the wedding.
Interestingly, the episode will also see the Begum calling Katrina her sister-in-law.
During the rapid fire round, Johar is seen asking Kareena who she would have a gay encounter with if she was forced to, Kareena said: "I don't know, I'll be more comfortable with my sister-in-law so I'll say Katrina Kaif."
With Kareena openly referring to Katrina's bond with Ranbir, the love birds could probably stop hiding their relationship.