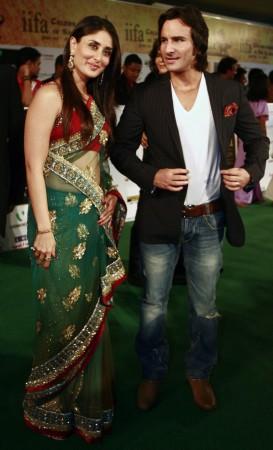 After weeks of denial and outright contrasting statements, actress Kareena Kapoor shocked her fans by spilling a few details on her upcoming wedding during a recent interview.
"What if we're already married and nobody knew? I could have been." the 31-year-old actress briskly said when asked to clarify her wedding date and venue confusion.
Obviously upset with marriage-related questions, the actress told Hindustan Times that "It's sad; my marriage has become a national joke. The wedding's on, but beyond a point, I don't think my fans or media need to know more."
More than eight-months have passed since the first wedding announcement was made and the drama has taken several twists and turns.
Lately, the to-be-groom Saif Ali Khan confirmed that the wedding will take place in Maldives in December, but considering Kareena's recent statements, even Saif's account doesn't seem trustable.
"The wedding is in Maldives...100 people...December not October!" Saif had told Mumbai Mirror in July.
With the change in venue ranging from Pataudi Palace, Mumbai, London and to Copacabana, the couple and their respective families have created confusion, barely leaving much conviction in their altering statements.
Saif and Kareena's wedding is ostensibly the biggest wedding of the year "in question" with the couple tying knot after romancing for five long years.
Even his mother Sharmila Tagore confirmed several times that it will definitely be on October 16, warning Saif to keep her words.
However, both son and mother failed to tune in with each other's statements, with Saif telling the media that the date is not yet decided.
Tagore even divulged the necessary details, including the bridal costume of Kareena and preparations, but so far both Saif and Bebo seemed to be in denial mode.
Reports said that the reason behind the entire confusion is the lady in question. Apparently, Kareena is presently at her career-peak, with her big film "Heroine" slated to releases next month and several other meaty projects in queue. The couple apparently don't want Kareena's film career to go down with her married status.