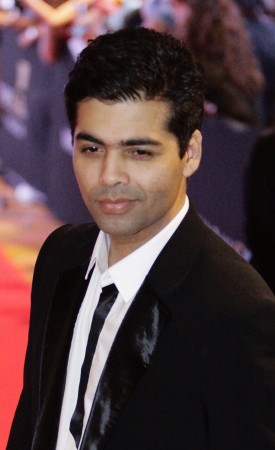 In a role reversal of sorts, ace director Karan Johar is set to fit into actor's shoes for director Anurag Kashyap in the upcoming film "Bombay Velvet".
Reports have confirmed that Johar will be seen playing a villainous role in Kashyap's ambitious project starring Ranbir Kapoor and Anushka Sharma.
"It's true that I'm acting in 'Bombay Velvet' and it's unusual for me. I was blown away by the narrative... Since I'm playing an antagonist, there are shades of grey to my character," confirmed Johar to Hindustan Times.
The excited director added, "I didn't know whether I was ready for it. Now, I will start working on my role with Anurag. I will follow his directorial vision, and I won't bring my director's baggage on the sets."
"Besides Anurag, Ranbir too was keen that I come on board. As for my mother (Hiroo Johar), she has always been encouraging in whatever I do."
Johar, who had recently worked with Kashyap in the 100 years celebration of Indian cinema anthology "Bombay Talkies" seems to have bonded very well, ironing out their previous differences.
Speaking of Johar being cast as the antagonist, Kashyap said, "Karan is fantastic for the part. I actually wanted to bounce ideas off him. He loved the script, and I suddenly asked if he will play the role. He was surprised, but said yes. Karan said he will charge Rs 11, and the money kept aside will go for special effects and production."
Johar is the second director to be cast as actor in Kashyap's films after Tigmanshu Dhulia, who was seen playing a negative role in the critically acclaimed "Gangs of Wasseypur".
"Bombay Velvet" is the first film in the trilogy with Ranbir and Anushka as couple in the backdrop of Mumbai's development in the 40s to 70s period.
The shooting of the film will start from July after Abhinav Kashayap's "Besharam" wraps up. The film is expected to be released by December 2014.
Meanwhile, in another report, Ranbir Kapoor, fresh from the success of "Yeh Jawaani Hai Deewani" has been signed for a Karan Johar-directed film which will hits floors early next year.