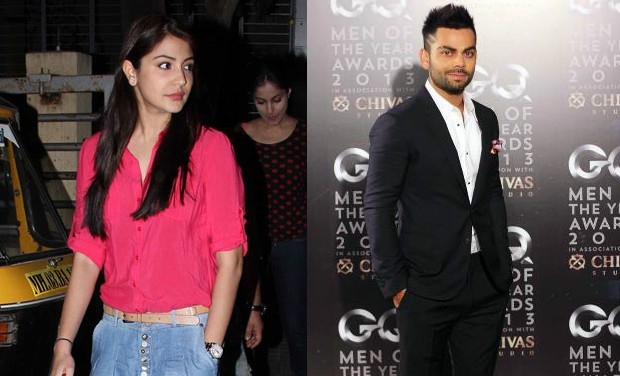 Filmmaker Karan Johar was in a mood for some fun at the expense of Anushka Sharma at a recent event.
Johar was recently seen in the "Bombay Velvet" team's celebration where Ranbir Kapoor, Anurag Kashyap, Vikas Bahl and others were present to mark the completion of the film's shoot and to announce its new release date, 28 November instead of the original Christmas release.
However, the film's leading lady Anushka Sharma was missing from the event.
And when the media enquired on Sharma's absence from the event, Johar took on the actress' romantic linkup with Virat Kohli, as he quipped, "Arrey shayad cricket match chal raha hai na, isliye... (IPL is going on, maybe that's why)," reported Daily Bhaskar.
The filmmaker's teasing remarks on the actress evoked a good laugh from the onlookers.
Johar was earlier seen trying to make the actress confess her romantic equation with cricketer Kohli during his show "Koffee with Karan." And now as the media is abuzz with the duo's hook up, the filmmaker too jumped into the wagon, picking on the actress in jest.
And since both Sharma and Kohli have been spotted following each other in different locations recently, Johar's light-hearted dig appears quite appropriate.
However, director Kashyap defended the actress' absence as he stated that Sharma was engaged with "NH 10" shooting in Jodhpur, Rajasthan.
The 25-year-old actress had also posted on not being able to make it to the "Bombay Velvet" party as she is shooting for "NH 10" via her Twitter account.
Won't b able 2 attend #BombayVelvet wrap party tonight.Shooting 4 #NH10 in Rajasthan.Will miss my BV gang.I'll hVe one(espresso) 4 d team ;)

— ANUSHKA SHARMA (@AnushkaSharma) April 16, 2014
Meanwhile, the linkup reports of the actress with Kohli reached a new level as her alleged cricketer boyfriend picked Sharma as his bride in a mock 'Swayamvar' hosted by Shah Rukh Khan during the recent IPL opening party in Dubai.