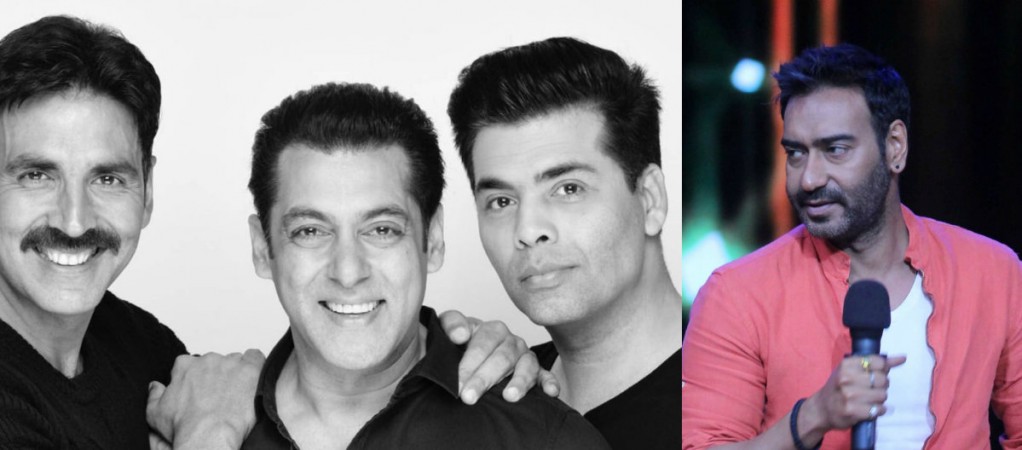 The clash between Shivaay and Ae Dil Hai Mushkil seems to have soured the relationship between Ajay Devgn and Karan Johar. And the recent buzz of Karan making a film with Salman Khan and Akshay Kumar is said to be a sweet revenge.
Also read: Salman Khan, Akshay Kumar and Karan Johar collaborate for a movie
Ajay and Karan are not really known to be friends and their movie clash had triggered a cold war. Karan recently announced his next project, which he will co-produce with Salman and the film will star Akshay.
The film's storyline is not out yet, but SKJ Bollywood News reports that it is similar to the movie Ajay has been planning to make with Randeep Hooda. The Shivaay actor's next project is a film titled Sons of Sardar on the Battle of Saragarhi, but it has been kept on hold due to budget issues.
In Karan's film. Akshay will reportedly play Havaldar Ishar Singh who was the military commander of 21 Sikh soldiers during British India and had led his men through a deadly battle against thousands of Afghani invaders on September 12 1897. Thus, the battle came to be famously known as the Battle Of Saragarhi. Interestingly, Ajay's storyline of Sons of Sardar is said to be same.
Karan seems to have grabbed the opportunity to make a film with a similar storyline, as Ajay will not be able to make his film at present. It is difficult to say whether this is merely a coincidence or a planned move.
"This looks like Karan's still not over his fight with Ajay. He wants to take it to the next level. And with him announcing a heavyweight film like this which is similar to Ajay's film and getting Salman to back it up, it's already a victory for Karan. Now, it needs to be seen what Ajay's next plans would be," DNA quoted a filmmaker as saying.