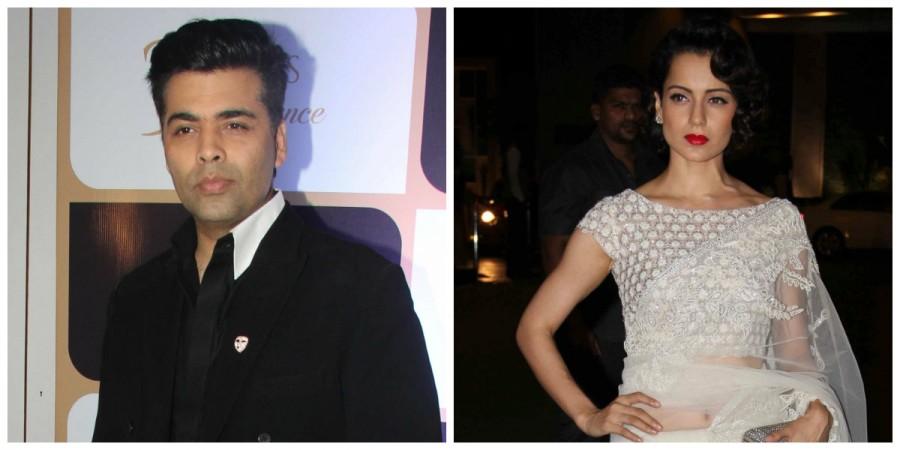 Bollywood filmmaker Karan Johar has become media's favourite controversy child as he has been a part of several controversies for a long time. Johar was recently slammed for his comments on nepotism and Kangana Ranaut at IIFA 2017.
Karan made several statements on nepotism that he felt were hilarious. Johar did the supposedly funny bit about nepotism on the state, along with actors Varun Dhawan and Saif Ali Khan at IIFA Awards 2017 in New York. However, the constant dig at Kangana Ranaut did not go down well with people.
While Varun apologised for his actions, KJo has also admitted that he regrets doing it. During their act at IIFA, Varun sang: "Bole Churiya, Bole Kangana," to this Karan said: "Kangana na hi bole toh acha hai."
However, after facing intense backlash for their act, Johar in an interview with NDTV, said: "Of course I don't believe that 'nepotism rocks'. Of course, I believe that only talent rocks. If anything that rocks, it's your talent, hard work and conviction."
"It's the energy you bring to your job. What we said was meant to be a joke, which I think has been misplaced, misunderstood and I think it went wrong. I regret it," he added.
Though Varun apologised on social media, KJo took the blame of this whole act on himself.
"The idea of that joke was entirely mine, so I take onus of the idea of what we said. And I think we went a bit too far with the Kangana mention," he said.
I express my apology and regret .. I am extremely sorry if I have offended or hurt anyone with that act..

— Varun Dhawan (@Varun_dvn) July 18, 2017
He told NDTV: "No matter what I say or feel about my issues with what Kangana said on my talk show Koffee With Karan, I think I was raised to be a dignified, a chivalrous, and a decent person. That's the upbringing that I was given and I feel that I failed on those accounts. I felt that no matter what my thoughts or personal issues on this, I should not have repeatedly brought that up. For that, I'm deeply regretful."