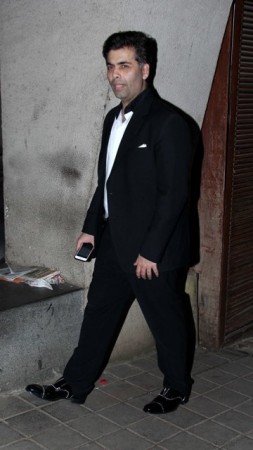 Director Karan Johar seems to be irked by a Twitter troll made on him regarding legalisation of same-sex marriages in the United States.
A Twitter user took a dig on the filmmaker by tweeting a post that read, "#Rumors : @KaranJohar to get married soon in USA."
This made KJo furious and he showed his disappointment on social media referring to this post.
https://t.co/5We8Ko4Sbg it's so sad and disgusting when a major breakthrough movement is made into a mockery by some on Twitter!! Shame!!!

— Karan Johar (@karanjohar) June 27, 2015
The US Supreme Court legalised same-sex marriage across the country on Friday. And later, KJo became target of several gay jokes.
After the "Bombay Velvet" villain posted the tweet, many Twitterati gave him back by reminding him about AIB Knockout controversy.
Many called the director a hypocrite, who made jokes on several serious issues on AIB show.
Why angry Mr @karanjohar? Many instances including #AIBRoast where u hv made fun of serious issues, now why no chill pill?

— Tridip Goswami (@3dipkumar) June 29, 2015
@karanjohar @PratiikMalhotra I thought you could take a joke or two Karan #LetItGo — Fahad Khan (@DefunctKhan) June 29, 2015
@karanjohar @PratiikMalhotra..says the one who mocks & ridiculously potrays homosexuality!if u were sensitive u cudve xpctd it from others.

— Damayanti (@Chotpot1) June 28, 2015
@karanjohar prefers to be roasted but can't digest a joke on twitter ? Such a chicken. — Gaurav Kalra (@gvkalra) June 28, 2015
@karanjohar when you do its called freedom of expression and when gen public does its mockery... Shame on you @PratiikMalhotra

— Vinoth (@iamvinothbabu) June 28, 2015
@karanjohar Really disgusting was ur #AIB rost whn trolled u had fun laughinout so why dnt u laugh on ths shameful humor or rumor on Twitter — rainbow_zoomin (@rainbow_zoomin) June 27, 2015
@karanjohar Woah dats how u feel wen d ball comes rolling at u, think abt AIB n take it all wid a pinch of salt as u advised oders days back

— Bhaijan Ki BEHENJI:P (@manishtamancha) June 27, 2015