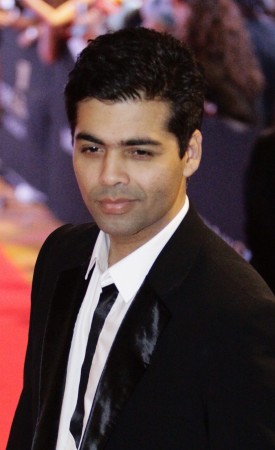 Ace filmmaker Karan Johar is set to make his maiden venture as an actor in Anurag Kashyap's upcoming film "Bombay Velvet" which stars Ranbir Kapoor and Anushka Sharma in lead roles.
Speaking about the latest developments in the project Karan said, "I've got the script. We did a look test too a couple of days ago," Hindustan Times reported.
Karan, who will be seen playing a grey character in the film, went on to add that he feels a little awkward to act but is happy that he will be working with Ranbir. "We'll meet on the sets eventually. It's going to be a bit awkward for me to act, so I'm happy that I'm doing it with Ranbir, who is a friend. I will immediately be comfortable. The fact that he's in the film will really help," Karan said.
Karan spoke at length about Anurag Kashyap, who has been preparing the filmmaker for the role. "Anurag is a spontaneous director. The ball is in his court; I am his baby. If I'm good, the credit will go to him, but if I'm bad, I'll be taking all the discredit. Either way, it's Anurag's baby all the way," he said.
Karan also said that he had no knowledge that Naseeruddin Shah was offered the same role. "I know Anurag has spoken (about it), but I have no idea about any of the details," he says, adding that his involvement in the film began with a simple script discussion. "Anurag is a dear friend. He wanted my feedback, so I heard the script and gave some inputs on the screenplay. Then he asked me 'Why don't you play this part?'. I thought it was interesting, so I agreed immediately."
Recently, Anurag Kashyap had revealed that Karan had lost 10 kg for the film.