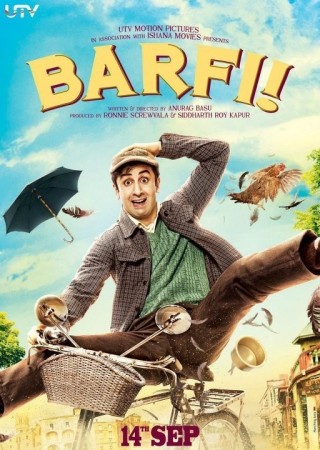 Director Anurag Basu's magnum opus "Barfi" has left a delicious taste in everyone's mouth, including critics and other big filmmakers. But the film has corroded Bollywood stalwart Karan Johar's thinking processes to the point where he now believes himself to be "inferior and talentless" after watching "Barfi". He even went on to call Basu as the "god of all filmmakers".
Earlier, Johar tweeted, "I just saw #barfi...i have never felt more limited, inferior and talentless...anurag basu is the god of all filmakers...his genius is barfi!!"
Here some of the tweets of Johar on "Barfi":
"Ranbir Kapoor has given the most outstanding performance....he deserves a running ovation! it will be an honour to work with him.."
"#barfi...@priyankachopra is just brilliant as jhilmil....superbly nuanced and pitch perfect....her portrayal lingers long after the film..."
"#barfi....well done ileana!!! Superb debut....and Kudos to all at UTV for this masterpiece that defines the barometer of modern cinema!"
Yes, Basu's cinematic excellence in narrating a romantic-drama genre along with mime, slapstick comedy has worked magic on screen. The film brings out the X-factor of the humour that was submerged in rather double-entendres or dark comedies as seen in latest Bollywood films.
The heartfelt jokes in "Barfi" has given an opportunity for everyone to revel in humour not meant to be cruel or hurt personal, communal or sexual orientation. Although the critics point out a handful of follies that runs deep into the movie, the strong storyline and stocky characters make up for the shortcomings.
Barfi is possibly a lifetime character that Ranbir Kapoor could have ever asked for at this stage in his acting career. Kapoor in the film has certainly taken his stardom to a notch that other promising actors may find hard to catch up with.
"Barfi" was released on Sept 12.