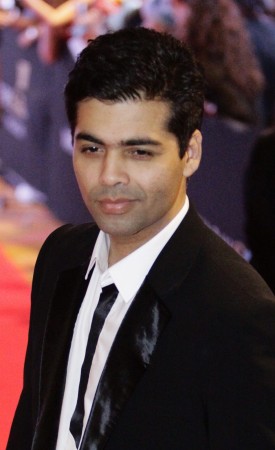 Filmmakers Karan Johar and Ram Gopal Varma are notorious for lashing out at each other on Twitter. Now, the battle has taken a new turn with Johar expressing deep animosity with his long-standing rival.
In an exclusive interview with CNN IBN, Karan said, "Ram Gopal Varma is the biggest entertainment of my life. He's basically a mad man. I think he has fits in the middle of the night."
The filmmaker further quipped that Varma's madness is akin to an obsessive stalker. "I think he is obsessively in love with me. He is like Shah Rukh Khan in the movie Darr," and added "I want to tell him he was a great filmmaker and he should make another 'Satya'," he said.
Johar's outburst comes days after Varma mocked his film "Student of the Year" saying, "If someone takes off from Karan Johar's 'Student of the year' and makes Teacher of the year it will become the Disaster of the year."
An enraged Johar shot back saying, "Disaster of the year is your territory Ramu... no one can ever replace the comfortable place you have made for yourself there." Johar was referring to the epic disaster "Aaag" (2007) a remake of the classic hit "Sholay".
Recently, when the "Kal Ho Na Ho' director was asked about Verma and his twitter tirade, he humorously told Press Trust of India (PTI), "It is fun. We are having fun actually. It is war of words for everyone's entertainment. According to me, right now, I really want to find a new filmmaker to pick on because he is so last season in my life."
Incidentally, Johar and his contemporary Anurag Kashyap had initially shared cold vibes with both commenting on each other's works, on online social platforms. But post the "Bombay Talkies" project, they became good friends.
Kashyap has even been roped in Johar for a negative role in his upcoming film "Bombay Velvet" which stars Ranbir Kapoor in the main lead.
Taking note of this reconciliation, one might hope that Johar and Verma would also bury the hatchet, and possibly embark on a film project together.