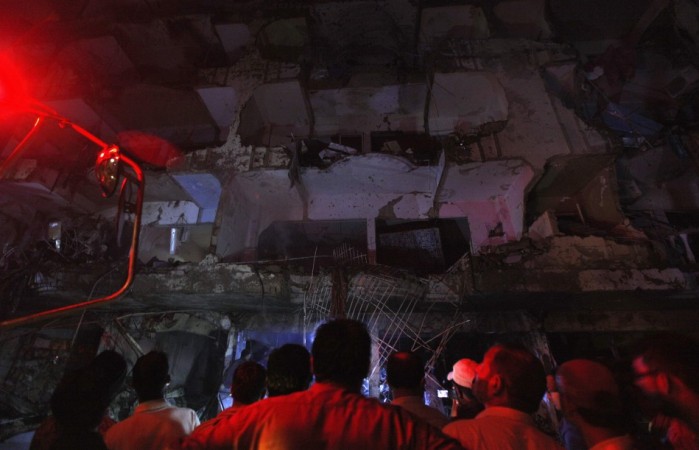 Two powerful explosions hit a shia-dominated residential area of Karachi, Pakistan, killing about 45 people and injuring as many as 135, on Sunday evening.
The bombs were set off as worshippers were coming out of mosques.
The serial blasts brought down large portions of a 200-block apartment and set off an inferno, hindering rescue operations. Many people are believed to be trapped under the rubble.
Reflecting on the gravity of the situation, Sardar Mehdi Musa, a Hazra Shite leader said, "This is terrorism at its worst."
"It's a sign that things are only going to get worse," he told The New York Times.
The death toll could escalate to 50 since most of the injured, including a large number of women and children are in critical condition, said Health Secretary of Sindh Aftab Khatri.
Rescue teams rushed the injured to three hospitals located close to blast-hit areas.
Police official Fayyaz Khan said that the first bomb was planted in mini-truck parked near the entrance gate of a residential area and was remotely detonated.
Preliminary reports suggest that the second explosion was carried out by a suicide bomber who blew himself up in the residential building.
Fayaz Khan said that the fatal chemicals laden with explosives could have led to the massive fire following the blasts. Bombers were suspected to have used about 150 kg of explosives for detonation.
No terrorist group has claimed responsibility for the attack, but circumstances point to the Lashkar-e-Jhangvi, a Sunni militant outfit which killed around 200 people in targeted attacks this year.
A three-day morning period was declared and authorities have called for a total shut down of the city on Monday.
Major local transport and traders' associations also backed the city shutdown.
"There will be no public transport on the roads today," Karachi Transporters Association chief Irshad Bokhari told AFP.