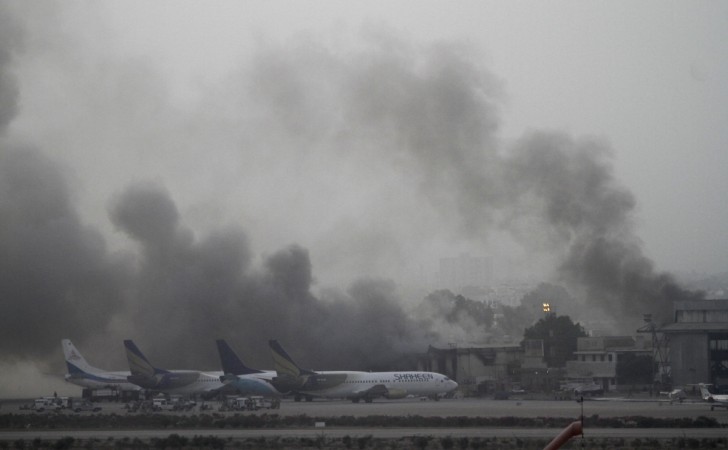 Following the twin attacks on Karachi airport in a span of 36 hours, an anonymous group of hackers pinned the blame on India and stated that Mumbai airport would face a similar attack as retribution.
The website of the Indian Embassy in Tunisia was hacked, and the hackers posted on it that there would be a similar attack on Mumbai airport, The News Minute reported.
While no group has taken responsibility for the hack on the embassy yet, the hacker left a footnote on the page, which said "Hacked by Hunt3R".
The page, which showed a picture of the airport, read "Payback of Attack on Jinnah Airport".
The group claimed that India is supporting attacks against Pakistan and has been supplying arms to terrorist groups. Then it went on to warn that the Mumbai airport will see a similar attack. "You will have to pay for this 2.5 million gays," it further read.
The hacked post paid homage to Pakistani army personnel and officers, who were killed in the attack.
The Embassy website has now been restored but there has been no response either from the Embassy or the Indian officials regarding the incident.
On 8 June, 10 militants - armed with weapons, a rocket launcher, suicide vests and grenades - attacked the Jinnah International Airport in Karachi. 36 persons were killed, including all 10 militants, and at least 18 persons were wounded in the attack.
In the investigations following the attack, there have been speculations that several Indian weapons were recovered from the scene. Similarly, a few dailies also carried reports that the Pakistani police had recovered several made-in-India "Factor-8 injections" from the dead terrorists.
According to officials, these injections are used by the Indian Army in frontline combat and have the purpose of stopping bleeding. The injections are not available in the market. The Pakistani officials, however, never confirmed this on record.
Jinnah International Airport is Pakistan's largest and busiest airport and, following the attack, several International carriers have now refused to ply on the route. The incident is seen as the first such large-scale attack in the country in years.
The last major incident was the hijacking of the Pan Am Flight 73 in 1986. A similar - but much low-scale - attack was carried out in 2011 on the Mehran Naval Airbase in Karachi, and on the Bacha Khan International Airport in Peshawar, northwest Pakistan in 2012.
Indian Prime Minister Narendra Modi, in a letter to his Pakistani counterpart Nawaz Sharif, condemned the Karachi airport attack and offered his condolences over the loss of lives.
Modi also stated that he was hopeful of an improvement in the bilateral ties between the two countries and working in a violence-free environment. He stressed that the Indian government keenly wants to work with Sharif, and also expressed his delight in the Pakistan PM's presence at his oath-taking ceremony.