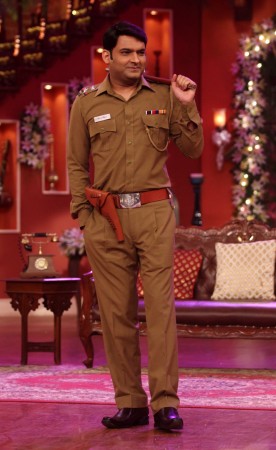 Post the success of "Comedy Nights With Kapil" (CNWK), master comedian Kapil Sharma became a household name. From doing shows abroad to anchoring award ceremonies, Sharma has done it all. Unfortunately, the unprecedented success came with a huge price.
From engaging in a Twitter spat with Kamal Rashid Khan (KRK) to the ouster of Sunil Grover, Sharma has often found himself entangled in controversies.
Recently "Bigg Boss 7" contestant Ajaz Khan has lashed out at the funnyman for not airing his show. According to reports, Khan had shot an episode with Sharma for "CNWK" but the clip hasn't travelled out of the edit room yet.
"I was called by Kapil and team to shoot for "Comedy Nights With Kapil" as a celebrity. I shot the show at 2 am in the morning but the show has not been aired yet. I tried to get in touch with Kapil several times but he never replied. So, we were at a party, I saw him there and just went and asked him about my show. There was nothing wrong in it," Khan told The Indian Express.
Sharma, on the other hand, confronted the allegations saying that the "Khatron Ke Khiladi" participant was putting up such a show for publicity. "Kapil told me I did all this for publicity. But no I don't want any publicity. I am already known and I have my own fans," Khan added.
Sharma, however, reportedly justified his stand on the matter by informing that the channel decides on the logistics of the show and he isn't responsible for any of it.
While the verbal spat continues, Sharma has been the victim of unnecessary war of words on social media sites. Kamal Rashid Khan, who calls himself actor, director, producer and lyricist, openly criticized "CNWK" and said that 'girls are being exploited'.
Sharma, obviously reacted to it by posting that both KRK's house and face will be broken by him if he doesn't quit writing made up stuff. However, the argument got really heated up with the two hurling abuses at each other. Sharma, however, later apologised to his fans for behaving inappropriately.
Sunil Grover's ouster from "CNWK" was another event which drew major flak. Rumours were rife that insecurity made the host exit Grover from the show. The comedian, who launched his own show "Mad In India", didn't succeed in his ventures and eventually returned to the popular show.
Alleged affair with colleague Preeti Simoes, rough behavior at Celebrity Cricket League, and exit from Yash Raj Films' three-film-deal, are some of the other conjectures that have doused the otherwise clean image of the stand-up comedian.