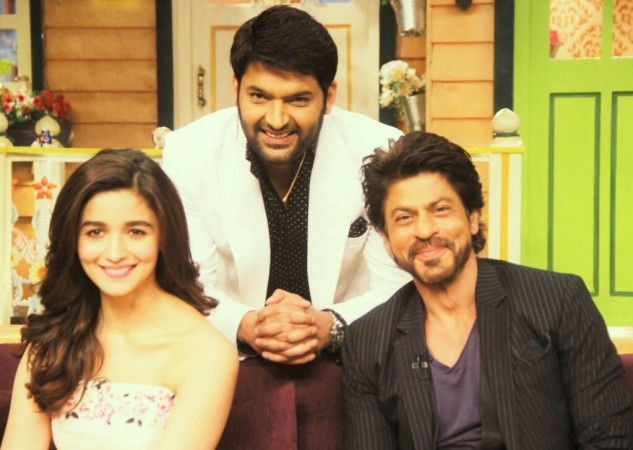 The Kapil Sharma Show is, most of the times, a fun watch and with Shah Rukh Khan around, the show gets even better. The superstar, along with Alia Bhatt, was on the sets of TKSS to promote Dear Zindagi.
Even though the episode was entertaining through and through, we have listed out high points of the show below:
Alia Bhatt owning Kapil Sharma
When it comes to witty replies, it's usually difficult to have a one up on Sharma, but Bhatt turned out to be an exception. When the host-comedian asked how she felt being part of the show, the young star quipped how he felt standing right in front of her.
When the stars were asked to sell products
Khan was at his witty best while selling items that were given to him; particularly a towel. He said apart from him, the towel was used by Ranbir Kapoor, Salman Khan and Kajol in their films. The scenes he mentioned were iconic and are even remembered today for their quirk quotient. Bhatt was fun to watch as well. She picked up a ripped pair of jeans and said she would hug whoever bought it. A little later, when it came to selling a landline phone, she said the phone was special and it only connects to Khan's house and also has a free talk time facility.
When Khan and Bhatt turned problem solvers
They read out problem questions asked by audiences and tried solving them. Some of the answers were downrightly funny, others were very practical. A student asked what how he should make his spendthrift girlfriend understand that her shopping spree is affecting his financial situation quite a bit? While Bhatt suggested he destroyed his credit card, Khan said the best way to tackle the issue would be to be a little wiser and organise the finances well. Next up, a married woman said she was tired of her husband spending hours fiddling on his mobile phone in the washroom and that she doesn't like it that he has very little time to spend with the family. Khan said he never uses his phone after reaching home and advised the woman's husband that he should try and make time for the kids because they grow up too fast.
Sharma and Khan pull a fast one on Suagndha Mishra
Mishra little gag, in which she enacted a scene from Dilwale Dulhania Le Jayenge, dance with Khan and sung songs, was much appreciated by the live audience and even the actors. But Khan and Sharma put Mishra on a spot by saying that she should be a little more dignified that next time she puts together an act because dancing the way she did was extremely un-lady like. Mishra was on the verge of breaking down when Khan hugged her and said they were just joking with her.