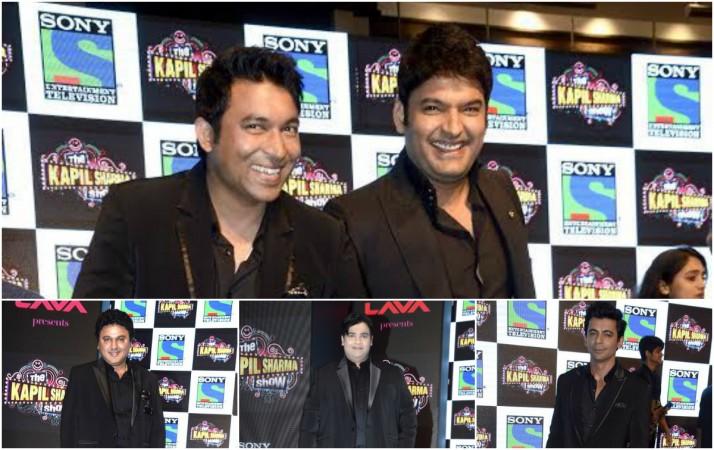 The maiden episode of "The Kapil Sharma Show," which opened to a live audience in New Delhi's Siri Fort Auditorium earlier this month, was aired on Saturday. The Twitter reactions to the episode, telecast on Saturday, April 23, have been mostly positive.
Shah Rukh Khan, who was on the show promoting "Fan," cracked a few jokes and charmed the audience with his witty one-liners. Funnyman Kapil Sharma wasn't far behind as well, taking potshots at himself and entertaining the audience with his stand-up comedy.
The team — Sunil Grover, Ali Asgar, Kiku Sharda, Sumona Chakravarti and Chandan Prabhakar — appeared thrilled and overwhelmed when fans from the crowd pounced on them as they squeezed their way through the auditorium's aisles to the stage.
SRK and Sunil's gag, where the latter posed as a Hariyanvi policewoman getting frisky with the superstar, elicited the most laughter. Ali is not dadi this time; he played begum to Nawab Moolchand Khan (Kiku), but their gag was funny only in bits.
The episode ended with SRK dancing to "Jabra Fan," the promotional track from his latest film, "Fan." He taught the audience the hook step and matched steps with Navjot Singh Sidhu, the "TKSS" team and dignitaries attending the show.
"The Kapil Sharma Show" airs on Sony Entertainment Television every Saturday and Sunday, 9 p.m. onwards.
Here's what the social media users have to say:
Umar: Its not about trp ,not about stardom ,not about competition..It's a bond we feel with @KapilSharmaK9 Show is awesome #TheKapilSharmaShow
Vikas Gupta: #TheKapilSharmaShow first episode TRP Rating, as per report Kapil New Show beat Comedy Nights Live TRP (sic).
SimplyHuman: Last nite at 9pm @KapilSharmaK9 life got set and colors tv must have felt time 2 pack up !! Freedom frm krushna finally #TheKapilSharmaShow
Ankit Pushkar: The laughter which was lost has now been found again with #TheKapilSharmaShow Thank you @KapilSharmaK9 for making us laugh.
Avi Ghosh: @KapilSharmaK9 sir thanks fr coming back..missed u a lot..u nd full team with SRK were awesome..main #TheKapilSharmaShow ka jabra fan hogaya
Sumit Tyagi: Keep silence fr 2min fr @ColorsTV n CNL's team. Dey knew now who is d boss of Comedy. @KapilSharmaK9 @SonyTV @iamsrk #TheKapilSharmaShow
Kushal Gautam: @ColorsTV tried hard 2 spoil d party bt dey didnt knew d fan power of @KapilSharmaK9 we will watch #TheKapilSharmaShow against any othr show
Watch the full episode here: