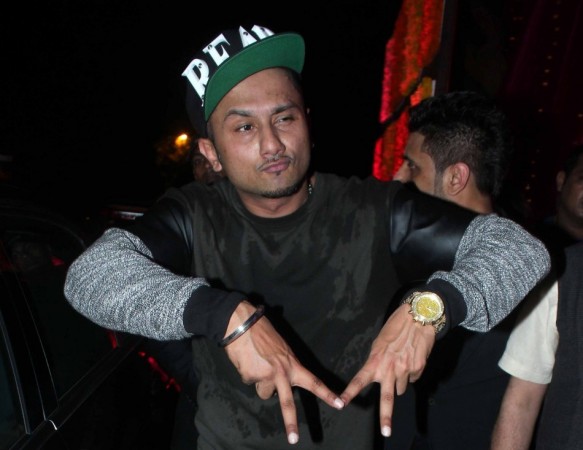 On "The Kapil Sharma Show," celebrity guest Yo Yo Honey Singh made a blunder of sorts while talking about his version of the "Dheere Dheere Se" song, which stars Hrithik Roshan and Sonam Kapoor. He said it took time to write the lyrics, adding that he composed the tunes and recorded it on his phone.
The 90s' hit-maker music director duo Nadeem-Shravan was the original composer of "Dheere Dheere Se." So, did Honey accidentally forget to give them credit?
Recalling the times he was down and out battling bipolar disorder in the confines of his home, the rapper said he had tough time to come up with the right words for the song. Honey's mother came to the rescue, helped him complete it.
His complete statement is as follows: "Iss gaane ke baare mein main kuch batana chahunga logon ko. Meri tabiyat bohot kharab thhi takreeban dedh saal aur main kuch bhi nahi kar paa raha thha uss waqt. Tab maine yeh gaana likha aur gaan main adha likh liya thha mujhse aur likha nahi jaa raha thha. Toh meri mummy ne help kari yeh likhne mein mujhe. Iska music maine apne drawing room mein, apne phone pe record kiya. Kisi studio mein jaake record nahi kiya is gaane ko. Mujhe nahi pata thha meri tabiyat kharab hone ke bawajood, meri namaujoodgi ke bawajood industry mein, iss gaane ko itna pasand karenge. Yeh number one video hai iss time pe India ka."
The rehashed "Dheere Dheere Se" is indeed one of the most-watched videos on YouTube (in India); so far, it has garnered 133 million hits. Although there aren't any number to justify the tag, but it had become quite a rage when it had just been released.
Hrithik sweeping Sonam off her feet in the picturesque locales of Antalya, Turkey, made for a visually appealing music video. The "Mohenjo Daro" actor's dance moves and his leading lady's sartorial choices acted as a plus.