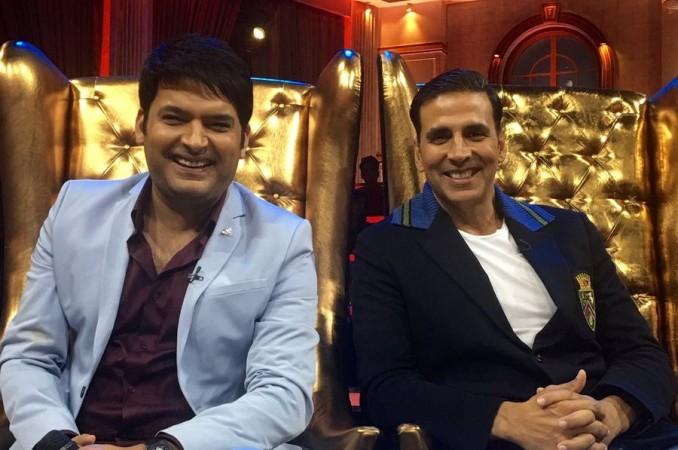 Kapil Sharma is busy with the promotions of his upcoming movie, Firangi. A few days ago, the comedian-cum-actor was supposed to appear on Akshay Kumar's The Great Indian Laughter Challenge, but he cancelled at the last moment.
The reason given was that Kapil was extremely unwell. The news came as a shock because he has disappointed his fans with his unprofessional behaviour earlier as well.
Kapil had cancelled his own show, The Kapil Sharma Show, citing his health reason when big stars like Shah Rukh Khan and Ajay Devgn were coming to promote their movies. Now, he did the same with Akshay Kumar.
As people slammed him for his unprofessional behaviour, Kapil was seen promoting his movie in Dubai the next day. It made his fans angry, but now Kapil has proved how professional he is with just one photo.
A picture of him and Akshay Kumar is going viral on social media. It was clicked when he appeared on The Great Indian Laughter Challenge recently. Yes, Kapil is back.
Producer Ashwini Yardi took to Twitter to share an image from the sets of the comedy reality show.
Kapil's Firangi, which will also star Ishita Dutta and Monica Gill, is slated to hit the screen on November 24. Directed by Rajiev Dhingra, Kapil Sharma's film is set in the back drop of India before Independence.
At present, the film has been sent to the Central Board of Film Certification (CBFC) for clearence. The censor board is taking time to review the movie and there are chances that Firangi's release date gets shifted to December 1, which was Padmavati's release date earlier. As Sanjay Leela Bhansali's movie will take longer time to get the certificate, Firangi might get the date.