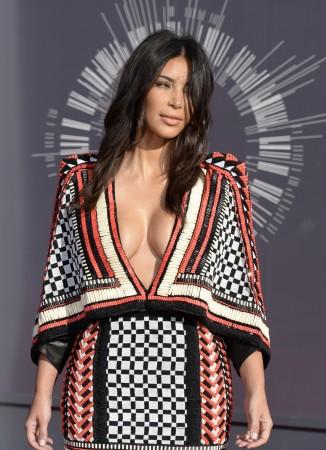 Kanye West's wife Kim Kardashian made heads turn at the Grammy Awards 2015.
The 34-year-old flaunted her cleavage in a metallic Jean Paul Gaultier gown, which featured a plunging neckline and beads detailing. The reality star coupled her look with a pair of matching stilettoes and belt. She wore her hair loose and kept her makeup nude. She accentuated her eyes with a warm-coloured eye shadow and had splashed dusky glitter on her body.
"There was a couple in the running and I love how sparkly it was, it is. And you know, I love it," said Kardashian about her ensemble choice, according to Daily Mail. She also revealed that her husband styled her for the event. "Kanye styled me tonight. He said "Babe do yon like this dress" and then it was sitting in my closet. He said "babe I've got your dress for the Grammys". I'm the luckiest girl alive."
West and Kardashian gave multiple poses for the camera. They also kissed each other at the red carpet.
Meanwhile, West performed at the Grammys after a six-year-long hiatus. He performed with Rihanna and Paul McCartney. West has collaborated with the singers on a new single, "FourFiveSeconds".
"She (Rihanna) couldn't get past this record; she said she had to have it on her album. We got the record with Rihanna and now we're at the Grammys," said West about "FourFiveSeconds", as per the website. West also belted out his famous track "Only One" as a tribute to his wife Kim and daughter North West.
Kanye and Kardashian got married last year. They had a fairytale wedding in Florence, Italy. They became parents to North West before getting married. Before marrying West, Kardashian was married to Kris Humphries.