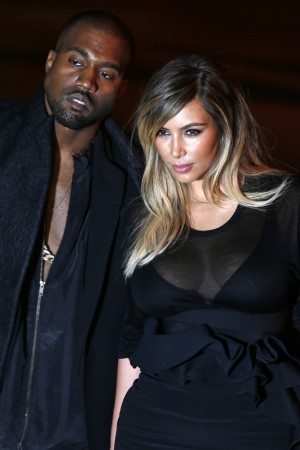 Kanye West revealed that he is willing to televise his wedding with Kim Kardashian if he gets paid a hefty sum of money.
Celebrities and the media share a very bitter-sweet relationship. In the past, Kanye had voiced issues he's had with the media but hasn't ruled out televising his wedding, on one condition that he gets big bucks.
"I would take as much as possible, if someone's gonna pay me to broadcast that," Kanye says in a new interview with Power 106. "I was thinking about that the other day, people got all these perceptions of what they think makes something official and not official - what's official for everybody in this room and everybody on this globe right now is some bills. We can help out with those bills."
Speaking about their daughter North West, the Yeezus artiste said, "Me and Kim are in the exploitation business, we get paid to exploit ourselves. I'ma give my daughter the opportunity to choose when she wants to be exploited - that's the reason why we didn't take any money for any of the baby pictures."
If the wedding were to be filmed for television, it would definitely boost the ratings of Kim's show "Keeping Up With the Kardashians". The latest epsiode of this season had witnessed a 40 percent drop in viewership from its premier. Producers are now worried that the E! network might pull the plug early on the show.