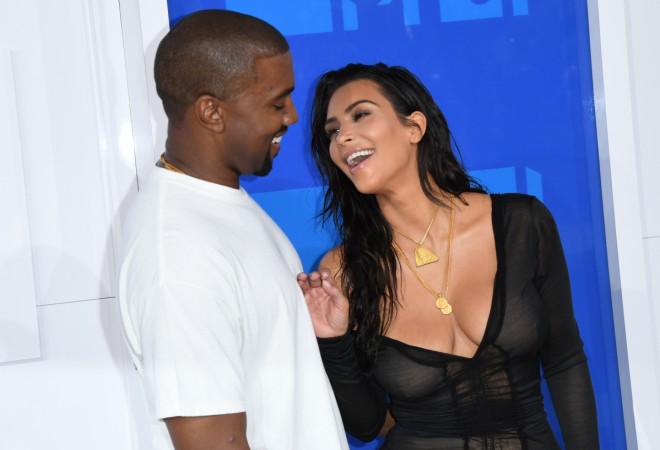 Kanye West does not appreciate Drake, Nick Cannon or Tyson Beckford talking about Kim Kardashian West. On Thursday, the rapper took to Instagram and addressed this issue in a series of videos.
The 'XTCY' rapper called out three people -- Drake, Nick, and Tyson -- and warned them of talking ill about his wife Kim. His first video addressed Nick in which he said, "First of all I want to address Nick Cannon," West told in the video.
"Like, I understand that you used to date my wife, but you get in an interview, don't mention my wife. If someone brings my wife up, you say, 'Hey, I respect that man, I'm not speaking on that.' Don't be making no suggestions, like nobody f--ked my wife."
"Now the next thing is with Drake. Yeah I told you that if I wasn't in a medicated state, I might've had the thoughts to...to say, 'Hey Pusha don't diss Drake on my beat.' And I spoke about that and took accountability for that."
Kanye, addressing Drake's album 'In My Feelings' where he refers to a woman named Kiki (for those of you unaware of this, Kim's nickname is Kiki) Kanye asks Drake why has he been keeping quiet about all the rumours flying around about Drake having sex with Kim.
"What I'm looking for, for my spirit to take accountability is, the fact that there's people making rumors or thinking that you f--ked my wife, and you not saying nothing and you carrying it like that, that don't sit well with my spirit," West said.
"You know, if I had a girlfriend from Chicago, her name was Renita and then you was married to Rihanna, I wouldn't make no song called 'Riri.' So when you're like, 'Ah I don't know where it comes from!' You're too smart for that, bro. You know where that comes from. Don't make no record with nothing that could be confused," he continued.
"I told you, I didn't tell Pusha no information about your baby, baby mama, nothing like that, that ain't come from me. But when you played that record for me in the studio that said, 'Yo we got some Kylies, we got some Kendall's,' I told you, 'Travis is your man, don't make no record like that. That man just had a baby with her, that's gonna be offensive, that's gonna be offensive to her.'"
Kanye then goes on to talk about his latest release, 'Ecstasy' in which he makes a statement about 'smashing all his sister-in-laws'. He claims to have asked Travis Scott if this line would be a problem even before recording the song.
"So, I did tell you not to do that, so, period, it's like, don't speak on nobody from my family, nothing that can be even mentioned with my wife, period, we don't have to talk again, I'm not giving no energy to that," West says. "And also, as far as Tyson Beckford go, don't speak on my wife, bro, like none of y'all speak on my wife, period. What is you talking about? I'm married, we in love, we a family."
Nick Cannon responded to Kanye's video. He said; "So I just landed in Houston, we sold out the Toyota Center tonight, but I just got word...first off let me say, welcome back Ye from the sunken place, it's a beautiful thing, glad you back with me brother. Nothing but love and respect for you, you know I always had that, but I honestly gotta say this my dude, I've never said anything disrespectful, harmful, in my opinion, to your marriage or your union, I salute it, keep it going. But you not gonna tell me what I can and what I can't say, I'm a solid individual, somebody ask me a question, I'm gonna answer it to the best of my ability, I'm gonna give my opinion. And there ain't no harm no foul, I know it got your spirit feeling weird, holla at me, you know where I'm at. Cause you know a man's spirit is free but pride binds it at times. So if you got to let it loose let it loose. "