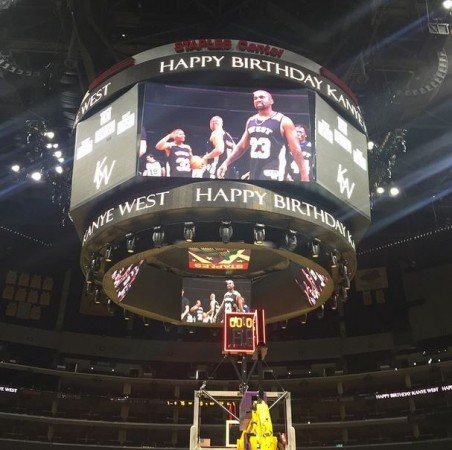 Kanye West must be feeling like the luckiest man alive right now. His 38th birthday was made special by wife Kim Kardashian, who planned a lavish and big surprise for her hubby.
Kim knows all about what can bring that "not-often-seen" smile on Kanye's face and she proved to be a true baller and a good wife, who not only rented out the entire 950,000-square-foot Staples Center in Los Angeles as a surprise gift for West, but also arranged for a lavish cake, candles and sealed the whole celebration with a sweet smooch for her beloved hubby.
The reality star took efforts to invite a whole bunch of family and friends to make this a star-studded celebration.
The "Keeping Up With The Kardashians" star started birthday celebrations early when she tweeted her love for her hubby on the morning of his birthday, while they read birthday wishes together.
She then drove him to his surprise party at Staples, where West played a basketball game -- West versus East -- with his friends and Lakers stars.
After this, John Legend sang 'Yeezy happy birthday' for the birthday boy. A video of this was posted by momager Kris Jenner, who was also in attendance that evening.
Apart from Kris, Khloe Kardashian and Justin Bieber too took to social media to give the birthday boy a shoutout.
In an Instagram photo posted by Khloé, the "Bound 2" emcee donned a black team "West" jersey while holding a basketball on the LA Lakers' home court.
She captioned the photo: "Kim rented out staples bitch!!! Him and his boys are going to ball!!!! Happy birthday Yeezy!!!!"
Bieber posted another picture on his social network posing with the entire West team, while captioning it: "#happybirthdaykanye #howlongyouball #allday#staplescenter #mvp #22points"
And finally, Kim posed with West and the Lakers cheerleader for a picture to thank Staples. She wrote: "Thank you Staples Center for the most amazing birthday party for Kanye!"