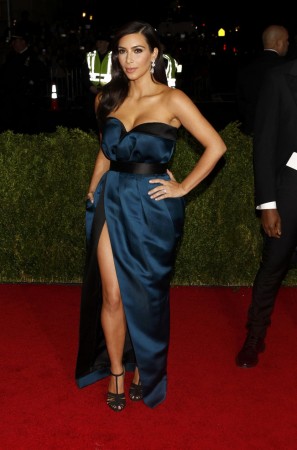 Kim Kardashian and Kanye West are rumored to be having marital problems just 58 days after their marriage.
The latest issue of In Touch magazine has a cover story on Kim Kardashian and Kanye West's alleged failed marriage, suggesting that the "Yeezus" singer is abandoning his wife and baby North West and move to Paris.
A report by HollywoodNewsDaily (via In Touch) claimed that Kardashian and West's marriage was a fake and that they have been not happy together for a long time. It added that the celebrity couple had a fight over West's decision to move to Paris, France, as Kardashian wants to stay close to her mother and family.
The magazine went on to say in its report that Kardashian is not happy with West's controlling nature but she doesn't want to go through the divorce drama.
"Kim is so obsessed with her image that she doesn't want to suffer the public humiliation of yet another divorce," the source told the magazine, according to Hollywood Take. "Kim has no choice but to accept Kanye's neglect but still hopes he will make an effort in their marriage. The reality of her marriage to Kanye is crystal clear. She told herself it would be a fairy-tale romance, but instead, it devolved into yet another nightmare marriage."
But interesting, West had recently gushed about Kardashian in an interview, hinting that he and Kardashian are very much in love.
"One of the reasons why I think that me and Kim are very powerful together isn't just the concept of celebrity or this mega rap star and this mega-beautiful pop star," West said in an interview to GQ. "What I had to learn from Kim is how to take more of her advice and less of other people's advice. There's a lot of Kim K skills that were added. In order to win at life, you need some Kim K skills, period."
West went on to say that any marriage needs a lot to work.
"Kim is this girl who f-king turns me on. I love her. This is who I want to be next to and be around."